SYDNEY, Jan 29, 2010 (AFP) - Australia has set up a group to look into recent violence against Indian students that has threatened ties with the South Asian giant, Foreign Minister Stephen Smith said.
Smith said he had discussed joint concerns over the attacks with his Indian counterpart S M Krishna in London on Wednesday, including the January 2 stabbing murder of Nitin Garg in Victoria state.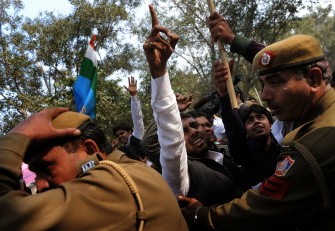 National Student Union of India members scuffle with police outside the Australian Embassy in New Delhi on January 27, 2010 during a protest against a series of attacks against Indian students in Australia. AFP photo
"I appraised him of the formation of the high-level working group between the Commonwealth and Victoria to deal with these matters and I undertook to keep him regularly provided with information on investigations and prosecutions as they come to hand," Smith told reporters Thursday.
Diplomatic tensions between Canberra and New Delhi have mounted following the unsolved murder of 21-year-old Punjab man Garg in Melbourne, with New Delhi expressing "absolute displeasure and concern" over the violence.
Smith said Australia did not want the issue to hurt ties.
"We resolved this was a difficult issue which we did not want to get in the way of the good and strong bilateral relationship between Australia and India which we've taken to new levels in the last couple of years," Smith said.
Australian police have acknowledged a jump in the number of attacks against Indians in Victoria but say they are not all racially motivated.
The latest violence, which follows a string of attacks against Indians that spilled over into street protests in Sydney and Melbourne in 2009, threatens to damage Australia's 15.4 billion US dollar education export industry.
Indian students account for 19 percent of total international enrolments in Australia, taking 117,000 places in the 12 months to October 2009.
Meanwhile, police in New South Wales arrested three people over the murder of 25-year-old Indian national Ranjodh Singh, a fruit picker whose partially burned body was found beside a country road on December 29.
"The motive for this horrific crime is not race-related," Assistant Police Commissioner Mark Murdoch said.