Australia on Wednesday said its swine flu cases have reached 10,387, more than 10 percent of the global total confirmed by the World Health Organization.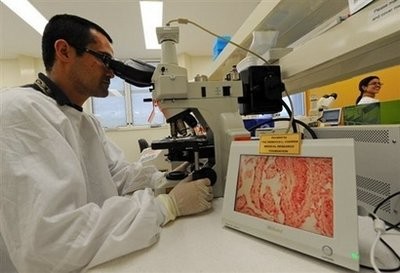 A microbiologist tests samples for signs of swine flu at Sydney's Prince of Wales Hospital. (AFP Photo)
Health Minister Nicola Roxon said the real number could be much higher, adding that 123 people were in hospital, with 58 in intensive care.
"There isn't testing for every person who might have a mild case of A(H1N1)," she told a press conference.
Some 20 people with swine flu have died in Australia, although the virus has not yet been confirmed as the cause of death in any of the cases.
The worst-hit Asia-Pacific country has pre-ordered 21 million flu jabs, enough for its entire population, as laboratories race to prepare a vaccine.
Officials have expressed growing concern over the disease as it starts to infect otherwise healthy people.
"We are seeing a few people that were previously well but are severely affected by the disease," chief medical officer Jim Bishop said earlier.
"There will be now some experience unfortunately with people who have been previously well," he added.
According to the UN's World Health Organization (WHO), 94,512 cases of A(H1N1) influenza have been reported, causing 429 deaths.