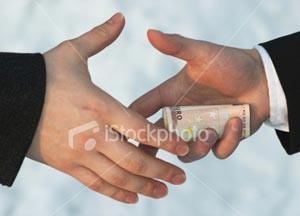 Illustration for a golden handshake
CANBERRA, March 18, 2009 (AFP) - Australia will outlaw excessive "golden handshake" payments to company executives, the government said Wednesday, amid outrage over bonuses collected by bosses of troubled US insurer AIG.
Treasurer Wayne Swan and Corporate Law Minister Nick Sherry announced the crackdown, under which termination payouts worth more than a year's base pay would require shareholder approval.
"What we have seen for the past decade, under laws we have inherited from the former government, is the retirement gold watch replaced by a truck load of gold bullion, Sherry said.
"That's why we have decided to take some strong and decisive action and carry our major reform in this area of golden handshakes," he told reporters in the Australian capital.
The move, unveiled after Canberra acknowledged public "revulsion" over huge executive salaries, will extend the rules to cover a wider range of executives and will slap criminal penalties on those who flout the laws.
"It is very important that we ensure executive pay is in step with good governance ... and meets decent community standards," Swan said, adding that some golden handshakes were "obscene".
"The government will curb golden handshakes in the form of excessive termination payments."
Company executives are currently allowed to receive termination payments of up to seven times their annual pay before shareholder approval is required.
"Shareholder approval will now be required for a termination payment exceeding one year's base pay," Swan said.
The move came amid outrage in the United States over a decision by insurer AIG to grant staggering bonuses to employees who brought the giant firm to the brink of collapse, forcing a multi-billion-dollar government bailout.
"I say this to executives that are listening to or watching this announcement -- the government does expect you to do the right thing by the community and the country, and particularly given our circumstances at the moment," Swan said.