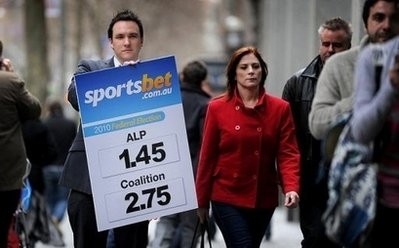 A man from betting firm Sportsbet holds up a board showing the odds for bets being placed on the outcome of the Australian election in Melbourne
Australians voted Saturday in the tightest national election in decades that could see conservative Tony Abbott terminate Prime Minister
Julia
Gillard's
short rule in a stunning upset.
The country's first woman leader, who seized power eight weeks ago by ousting predecessor Kevin Rudd in a Labor Party coup, was neck-and-neck in opinion polls with Abbott, who has run a trouble-free campaign.
"This is a big day for our country," Liberal/National coalition leader Abbott said as he cast his vote after manning a beachside barbecue in Sydney. "It's a day when we can vote out a bad government."
Around 14 million electors were taking part in a mandatory vote across the vast nation, with experts saying the outcome was too close to call and the battle would be won or lost in a swathe of key marginal seats.
"This is a tough, tight, close contest, but I'm exercising my own vote," Gillard said as she cast her ballot near her modest home in suburban Melbourne.
A Newspoll gave Labor a paper-thin 50.2 to 49.8 percent lead over the coalition, raising the prospect of the first hung parliament since 1940.
A separate Nielsen poll put Gillard's Labor party ahead 52-48 percent, while a Roy Morgan survey gave the government a 51-49 percent lead, but warned the "most likely outcome" was a hung parliament.
Bookmakers also reported a dramatic shortening of Abbott's odds in the 36 hours ahead of voting, pointing the way to a possible deadlocked parliament.
Gillard's centre-left Labor Party ran a campaign riddled with problems and struggled to reassure voters after June's shock ousting of elected prime minister Rudd, lifting Abbott's hopes of a surprise victory.
"When everyone asked I said it would be a cliffhanger... and so it's proving today," Gillard said.
Gillard, 48, a red-headed former lawyer who was born in Wales, has pledged better education and healthcare and played up Labor's role in helping Australia shrug off the financial crisis, as well as a planned national broadband scheme.
Abbott, a 52-year-old religious conservative who has doubts about mankind's role in climate change, has targeted fears over illegal immigration and questioned Labor's spending record, as well as its knifing of Rudd.
The right-leaning coalition needs a uniform swing of 2.3 percent to return to power less than three years after Rudd ousted 11.5-year prime minister John Howard, pledging action on climate change and impoverished Aborigines.
Victory for Abbott would make Labor the first one-term government since 1932, when the party's James Scullin lost power during turmoil caused by the Great Depression.
Such a defeat would be an ironic end to a government that won international praise for its handling of the global financial crisis, from which Australia emerged stronger than any other Western economy.
Both sides are targeting marginal seats in resource-rich Queensland -- Rudd's home state -- and western Sydney, where rapid population growth has put pressure on services and raised concerns about immigration.
Newspapers are split between Gillard and Abbott, but commentators agreed Labor had bungled by replacing Rudd just ahead of polls and underestimating the opposition leader, who has tempered his image as a colourful maverick.
But Labor's tenure could be saved by Australia's complex proportional representation electoral system that allows voters to pick their party and also list their second and subsequent choices in order of preference.
If voters disillusioned with Labor vote for the Greens, as many analysts expect, but preference Labor, those preference votes may be resdistributed to the ruling party, possibly pushing it over the line.
Most polls close at 6:00 pm (0800 GMT) Sydney time with the remainder two hours later due to time differences. The elections will decide the make-up of the 150-seat lower house and half the 76-seat Senate.
But analysts raised the prospect of no result being announced Saturday, saying the contest was so close that postal votes may have to be counted.