Two major Australian banks agreed Tuesday to a proposed merger which would create the nation's biggest financial services group worth around 66 billion dollars (62 billion US).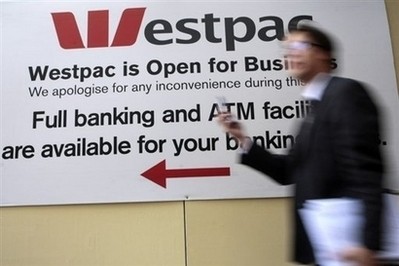 Australia's fourth-largest bank Westpac and St. George have agreed a merger deal which will create the country's biggest bank(AFP/File/Anoek de Groot)
The country's fifth-largest bank, St George, said it had agreed to an 18.6 billion dollar offer from Westpac Banking Corporation, Australia's third-largest bank by market capitalisation.
The mega merger would create a group with assets of about 550 billion dollars and test the government's "Four Pillars" banking policy which has prevented mergers between the four major banks.
"The Westpac board felt the timing was right to approach St George with a proposal harnessing the strength of both organisations to create Australia's leading financial services company," Westpac chairman Ted Evans said.
"The transaction we have now agreed is a true merger."
A joint statement to the stock exchange said St George Bank shareholders would be offered 1.31 Westpac shares for each St George share -- a 28.5 percent premium to the stock's closing price last Friday.
St George shares, which had been in a trading halt, resumed trading at 11:00 am (0100 GMT) and immediately surged, closing up 25.22 percent at 33.37 dollars. Westpac shares ended down 3.31 percent at 25.11 dollars.
The two banks said they had signed an agreement providing for a two week exclusivity period, during which they would undertake reciprocal due diligence and negotiate the detailed terms of a merger implementation agreement.
When complete, St George shareholders would own 28.1 percent of the new entity. The combined group would have about 10 million customers and a 25 percent share of the Australian home loan market.
Westpac said the decision by St George's board was conditional on an independent expert's report that the deal would be in the best interest of shareholders and that a superior offer did not emerge.
Under the proposal, which was announced Monday by Westpac chief executive and former St George boss Gail Kelly, the smaller bank would maintain its operating model and its branches and cashpoints would preserve its brand.
"This approach, combined with attractive merger terms, is expected to maximise value for customers, shareholders and employees over both the short and longer term," the banks said.
"Together, Westpac and St George would have a strong AA credit-rating, a larger balance sheet and greater access to funding."
The merger will require clearance from competition regulators and Treasurer Wayne Swan and is expected to increase pressure on the Labor government of Prime Minister Kevin Rudd to abandon the "Four Pillars" policy.
Although the policy was aimed at preventing mergers between the four biggest banks -- CBA (Commonwealth Bank), NAB (National Australia Bank), Westpac and ANZ -- St George was until now largely considered off limits.
Westpac's Kelly said she was "very confident" that no assets would need to be sold so the merged bank could meet competition regulations.
But consumers' group Choice said merging the nation's third and fifth largest banks would lead to less competition and higher fees while the union representing banking workers has vowed to oppose the merger which it says would cost jobs.
Analysts said the merger made sense but that the bid could be frustrated by counter-offers for St George from the other major banks.
"A number of risks still lie ahead for this proposal, including vendor acceptance, counter-offer and regulatory approval risks. Nevertheless, we see the deal on balance as likely to be consummated," Credit Suisse analysts said in a research note.