Australia's opposition leader Tony Abbott campaigned through the night as a key opinion poll Friday raised his hopes of a shock election win over the country's first woman prime minister.
Abbott and Prime Minister Julia Gillard launched a frenetic final blitz as the respected Newspoll showed a 50-50 split between the ruling Labor party and the conservative Liberal/National coalition, erasing Gillard's slender lead.
Fitness fanatic Abbott, known as the "Mad Monk", ditched his night's sleep to visit a Sydney pub, police station and a flower market, as Gillard embarked on a flurry of interviews ahead of Saturday's election.
"I have been on a blitz over the last 30 hours or so. I've done six TV interviews, 14 radio interviews and I've visited 10 electorates," Abbott told a press conference.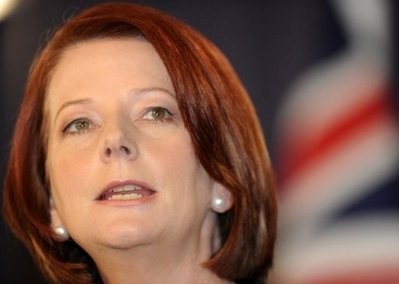 Australian Prime Minister Julia Gillard gives a speech in Canberra on August 19, 2010
"I am running for the biggest job in the country, and if you're running for a big job, you've got to make a big effort."
A separate Galaxy survey indicated Labor had kept its 52-48 percent advantage heading into the election, a compulsory vote for 14 million electors across one of the world's biggest countries.
"There is a very, very real risk that (voters) will wake up on Sunday and Mr Abbott will be prime minister," Gillard said. "So, tomorrow is the day for choosing."
Rupert Murdoch's populist newspaper titles in Sydney, Brisbane and Melbourne all backed Abbott on Friday, adding momentum to a campaign that has come from nowhere to threaten Labor's three-year hold on power.
"Yes He Can," read the main headline on Sydney's Daily Telegraph, playing on Gillard's Barack Obama-style "Yes we will" promises in a major speech this week.
"If ever there was a blatant admission by a party of its own failings... it was the South American-style coup that ended Kevin Rudd's prime ministership," a front-page editorial said.
The sentiment reflects Welsh-born Gillard's struggles to dispel unease over her June party coup of elected leader Rudd, who swept the coalition's John Howard from power in 2007 but fell in the approval ratings this year.
She has also bungled announcements on the key issues of climate change and immigration, and admitted failing to project the "real Julia" -- known for her down-to-earth charm and sharp wit -- during a highly stage-managed campaign.
However, the red-headed Gillard, a "Ten Pound Pom" whose parents emigrated in the 1960s, was backed by Fairfax newspapers including the Sydney Morning Herald and Melbourne's The Age, demonstrating the even split in public opinion.
"Julia Gillard has done enough to be given a chance to lead the nation; and not to be the first prime minister in 80 years to lead a government tossed out after one term," the Herald said.
Meanwhile Abbott, whose nickname stems from his training as a priest, has toned down his maverick image in a disciplined performance that has played on fears over illegal immigrants, the budget deficit and soaring living costs.
The London-born Rhodes scholar was rank outsider for prime minister when he became surprise Liberal leader in December, but defied expectations to unify the party and threaten Labor's seemingly iron-clad rule.
Defeat would drive Gillard from power after just eight weeks, and less than three years after Rudd's decisive win against 11-year leader Howard on promises of action over climate change and Australia's impoverished Aborigines.
"I think it?s too close to call at the moment. I think this is really, really tight," said Labor campaign spokesman Chris Bowen.
"There?s opinion polls out this morning, some saying 50/50. I think this will go right down to the wire and be the closest election in 50 years."