SYDNEY, Nov 17, 2010 (AFP) - A Qantas Boeing 747 had to turn back to Johannesburg after one of its engines suffered a bird strike, the airline said Wednesday, the latest in a string of incidents to beset the Australian carrier.
Qantas said the plane's number two engine shut down with turbine damage after sucking in a bird shortly after takeoff late Tuesday, forcing an emergency landing. There were 171 passengers on board.
"The aircraft is being worked on by engineers," a Qantas spokesman told AFP.
"It's just a bit of damage to some of the turbine blades, it's not a huge thing."
One of Qantas' smaller Boeing 717s was hit by lightning on a regional flight between the Australian destinations of Alice Springs and Darwin hours earlier, causing "minor damage" to the exterior.
The incidents follow the return to Sydney of a Qantas Boeing 747 bound for Buenos Aires on Monday after it suffered an electrical fault which caused smoke to pour into the cockpit.
Qantas has been plagued with mechanical issues since grounding its fleet of Airbus A380s after an engine exploded on one of the superjumbos on November 4, forcing an emergency landing in Singapore.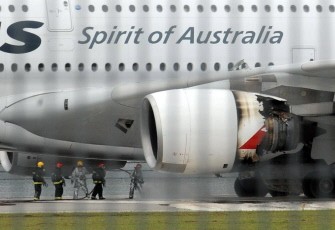 AFP file photo taken on November 4, 2010 shows the Qantas Airbus A380 plane and burnt out engine (R) after making an emergency landing at Changi International airport in Singapore.
A Boeing 747 had to turn back to Singapore with a sparking engine the following day, and a Melbourne-bound Boeing 767 returned to the west coast city of Perth with engine vibration a week later.
The Qantas spokesman said the airline experienced bird strikes two or three times a year and it was a "pretty rare occurrence".
A US Airways Airbus A320 famously ditched in New York's Hudson River last January after a bird strike on both of its engines, in an incident widely known as the "Miracle on the Hudson" because there was no loss of life.