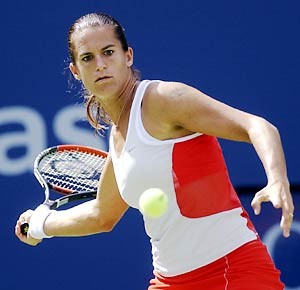 Amelie Mauresmo-the champion of the 2006 Australian Open
Tennis Australia says it will adopt a system of customised challenges for the "HawkEye" video line-calling at the Australian Open in January.
The year's opening grand slam tournament will also offer additional opportunities to challenge a line call should play go to the advantage stage at six games-all in the final set, TA said Thursday.
Players are now allowed two challenges in a normal set, but if a player is correct with a challenge, he or she can retain the same number of challenges during that set, TA said.
If they are incorrect, one of their challenges is lost.
At the 2007 Australian Open, if play reaches 6-6 in the final set, what is termed the challenge counter is effectively reset regardless of how many challenges a player has left, the organisation said.
Both players start afresh, each with the opportunity for a further two challenges in the next 12 games, but the challenges are not cumulative.
In the men's singles, the final set advantage applies in the fifth set and in the third set of the women's singles.
"Video line-calling with the HawkEye system has proved to be a popular addition in tennis and its introduction at 2007 Australian Open is going to be attractive new feature for both fans and players," tournament director Craig Tiley said in a statement Thursday.
"Today's announcement of the challenge system reflects what is special about the format at the Australian Open and means that when matches go beyond six games all in the final set, players still have the safeguard of being able to turn to the technology in cases where a call is disputed."
In the preceding sets, the challenge system will mirror that used at this year's US Open and on the ATP and WTA Tours where players have a limit of two challenges each set to review a line call.
This will be the first time video line-calling will be used at the Australian Open with big screens to be installed on Rod Laver (centre court) Arena.
The 2007 Australian Open takes place at Melbourne Park from January 15-28.