Australia should become a republic when Queen Elizabeth II dies or abdicates, Prime Minister Julia Gillard said on Tuesday, unexpectedly reviving an emotional debate just days ahead of national polls.
Gillard, whose centre-left Labor Party is in a tight electoral race against the conservative opposition, said a new monarch would be an "appropriate" time for Australia to stop having a British head of state.
"I believe that this nation should be a republic. I also believe that this nation has got a deep affection for Queen Elizabeth," the Welsh-born Gillard told reporters.
"What I would like to see as prime minister is that we work our way through to an agreement on a model for the republic, but I think the appropriate time for this nation to move to being a republic is when we see the monarch change."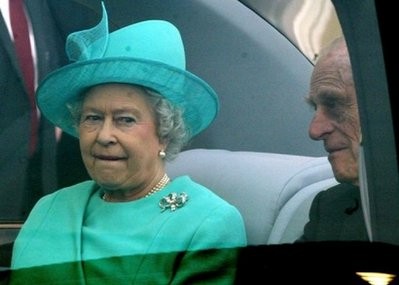 File photo shows Britain's Queen Elizabeth II (left) along with her husband Prince Philip (right) on a state visit to Germany.
Australians voted against turning the former colony into a republic in a 1999 referendum, and debate on the issue remains divisive.
"Obviously I'm hoping for Queen Elizabeth that she lives a long and happy life and having watched her mother, I think there's every chance that she will live a long and happy life," Gillard added.
"But I think that's probably the appropriate point for a transition to a republic."
Opposition Liberal/National Coalition chief Tony Abbott, a former leader of Australia's main pro-monarchist movement, said did not expect any change "at least in our lifetimes".
"While there may very well be further episodes of republicanism in this country, I am far from certain that, at least in our lifetimes, there's likely to be any significant change," he told the National Press Club in Canberra.
The comments reveal one of the few areas of genuine difference between the candidates ahead of Saturday's elections, where Gillard is leading Abbott by four percentage points, according to the latest Newspoll.
Australia's first woman prime minister is fighting to overcome voter unrest over her party coup against elected leader Kevin Rudd seven weeks ago, and avoid a shock defeat less than three years after Labor regained office.
Abbott, a religious conservative who was born in London and is known as the "Mad Monk" after he once trained for the Catholic priesthood, has reeled in Labor's lead by promising to stop illegal immigrants and slash government debt.
British convicts arrived in Australia in 1788 and the territory's states united in 1901 -- considered the birth of the nation -- but it was not until 1986 that Britain passed an act ending its right to make laws for the country.
Australia includes Britain's Union Jack motif on its flag and has a governor-general who represents and is appointed by the queen. The countries also share widespread cultural similarities and family links.
A January visit by Britain's Prince William, grandson of the 84-year-old queen, proved wildly popular with the public in what some commentators saw as a boon for pro-royals.
"Prince William, in his two-day charm offensive in Sydney, may have done more to set back the republican cause than anything since the 1999 referendum," The Sydney Morning Herald wrote at the time.
Gillard is promising an economic boost through better education and training, along with improved healthcare helped by Labor's planned national broadband network, which is intended to wire some 93 percent of homes.
Abbott has played heavily on Labor's perceived disunity and accuses the government of overspending during the financial crisis, when massive stimulus helped Australia avoid a recession.
The opposition needs a swing of 2.3 percent to make Labor Australia's first single-term government since World War II, after Rudd's 2007 election over 11-year conservative leader John Howard.