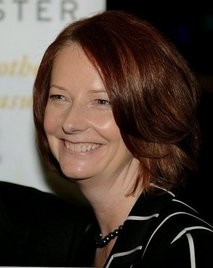 AFP/File – Australian Prime Minister Julia
SYDNEY (AFP) – Australian Prime Minister Julia Gillard Saturday called an August 21 election, vowing to tackle the flashpoint issues of refugees, the economy and global warming, just weeks after taking power.
Gillard, 48, said she would ask the Australian people to endorse her leadership after she ruthlessly deposed former prime minister Kevin Rudd in a party coup.
"Today I seek a mandate from the Australian people to move Australia forward," Gillard said, officially kicking off the five-week campaign.
"This election I believe presents Australians with a very clear choice -- whether we move Australia forward or go back."
Australia's first woman prime minister said the nation had "come too far as a country and evolved too much as a society to risk the kind of backward looking leadership" offered by her conservative opponent Tony Abbott.
The former industrial lawyer laid out her case for re-election on the issues of asylum seekers, economic management and climate change, painting herself as a progressive optimist who was "asking the Australian people for their trust."
But -- after just three weeks in office in which she insisted she had made some "big strides forward" -- she warned it would be a "very close election" and that a "close, tough, hard-fought campaign" lay ahead.
She faces an uphill battle to deliver the centre-left ruling Labor party a second three-year term in office, after a spectacular fall from the dizzying heights of popularity it enjoyed for its first two years in power.
The bloody campaign pits self-confessed atheist Gillard against scrappy former student boxer Abbott, head of the Liberal-National coalition, who played a key role in sinking Rudd's career.
Once regular sparring partners on commercial breakfast television, Gillard said she expected Abbott to prove a "robust" opponent.
The staunch Catholic attacked Gillard as "ruthless", asking how voters could trust her "when even Kevin Rudd couldn't" and when she couldn't herself be sure she would serve a full term before being knifed by the factions.
Abbott said his Liberal-National party coalition would "stand up for Australia" and for real action on the economy and boatpeople
"I'm going to end the waste, repay the debt, stop the new taxes and stop the boats. That's what you'll get from me," he said.
Gillard promised to outline her climate policies during the campaign and said she was "a person who believes climate change is real, who believes it's caused by human activity and who has never equivocated in that belief."
Abbott, who once dismissed climate change as "absolute crap" countered that a return to Labor would mean a carbon tax, saying: "It will be high and it will impact on everyone's standard of living."
The opposition would need to achieve a swing of 2.3 percent to return to power, less than three years after their 11 years in rule were ended by Rudd's landslide election victory in November 2007.
John Warhurst, a political analyst from the Australian National University said Labor was likely to win, with incumbency and the polls both weighing in their favour and Gillard seen "on balance" as a plus.
Formerly his deputy, Gillard has enjoyed a strong opinion poll surge since succeeding Rudd, who in six months went from being one of the most popular prime ministers in Australian history to being discarded.
But Warhurst warned that it would be a fight won largely on personality.
Gillard could mount a very strong economic argument, but he said the inflammatory issue of boatpeople was "potentially a plus for the opposition."
"That's an issue also where I think Julia Gillard has stumbled in the past couple of weeks and has not performed particularly well," he said.
A Nielsen and Galaxy opinion poll last week gave Labor a narrow but election-winning 52-48 percent lead over the opposition coalition, up from early June.
The election for members of the lower House of Representatives and half of the Senate is expected to be played out in key marginal seats in the populous eastern states of Queensland, New South Wales and Victoria.