SYDNEY, June 18, 2011 (AFP) - Australian leader Julia Gillard said she felt "very secure" and vowed to stay the course Saturday, after an unprecedented slump in the polls and a surge in support for axed prime minister Kevin Rudd.
The latest Nielsen poll, published in Fairfax newspapers on Saturday, put support for Gillard's ruling Labor party at 27 percent, the lowest primary vote for a major party in the poll's 39-year history.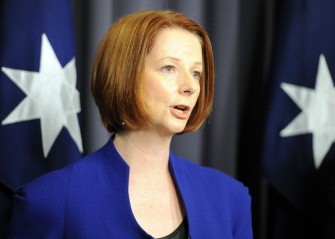 (AFP - FILES) Australia Prime Minister Julia Gillard
Tony Abbott's conservative Liberal party enjoyed 49 percent, according to the survey of 1,400 Australians, rising to 59 percent with smaller party preferences against Gillard's 41 percent.
Taken as the prime minister struggles to introduce a tax on pollution to tackle climate change and broker a refugee swap deal with Malaysia, the poll put dissatisfaction with Gillard at 59 percent, a seven-point rise from May.
Only 37 percent approved of her performance, and she polled level with Abbott in the prime ministerial stakes at 46 percent.
Voters overwhelmingly preferred ex-PM Kevin Rudd as Labor leader -- 60 percent to Gillard's 31 percent -- just days out from the first anniversary of his dumping as leader in a shock party-room coup.
Gillard acknowledged anxiety in the community about her emissions tax -- to apply to the nation's top polluters from mid 2012 -- but said she was not driven by public sentiment.
"I don't judge by the opinion polls. I judge by how I'm pursuing my plan for the nation," Gillard told reporters.
"We don't underestimate the challenges and we don't underestimate the amount of hard work that we've got to do. We don't underestimate the degree of anxiety about carbon pricing."
Her task of winning over Australians to carbon pricing is progressing, albeit slowly, according to the Nielsen poll, with support for the measure rising four points from April to 38 percent.
Gillard said she had the backing of her Labor colleagues and felt "very secure" in her position, despite the polling on Rudd, with whom she insisted she had a constructive relationship.
Now foreign minister, Rudd urged all Labor MPs to "support the prime minister in a challenging time for the government" and dismissed rumours he was angling for a return to the top job.
The former leader spoke at length about his axing for the first time Saturday, telling Fairfax he had reflected on his mistakes during a "genuinely soul-searching experience".
Rudd said his messages became "completely lost in translation" and "sometimes painful" discussions with colleagues had allowed him to see he had failed to listen enough to other MPs or to the community.
Gillard failed to win last year's election outright and heads a minority coalition with a margin of just one seat, dependent on a handful of independent and Greens MPs to support her rule.