Australia's Prime Minister Julia Gillard was hit by a surprise drop in opinion polls Sunday as a "knife-edge" election season started with taunts over her new slogan and controversial rise to power.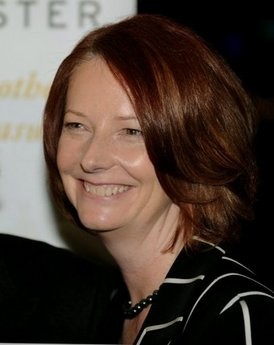 Australia's Prime Minister Julia Gillard, pictured, got off to a flying start in opinion polls Sunday.
A Galaxy poll taken in the 24 hours since Gillard set August 21 elections on Saturday showed the government level at 50-50 percent with the opposition, after narrowly leading by two percent just a day earlier.
Gillard, who deposed Kevin Rudd as leader just three weeks ago, remained the clear choice as preferred prime minister over the opposition's Tony Abbott but at 44-35 percent was well down on the earlier figure of 58-32 percent.
The survey was released at the end of the first full day of campaigning which Gillard kicked off in Queensland, a key battleground state and home of the ousted Rudd.
"I genuinely believe this election is on a knife-edge. A knife-edge right around the country, a knife-edge here in Queensland," Gillard told reporters.
Australia's first woman prime minister cuddled a baby during a walkabout while opposition leader Abbott sat down for a cup of tea with voters in western Sydney, in between a frenetic round of media engagements.
Gillard deflected questions about her deposing of Rudd in a sudden party coup, after the earlier Galaxy poll showed some 57 percent of voters believed the unceremonious axing could hurt the government's election chances.
Abbott, who had predicted a "filthy" campaign, said it was no surprise Gillard's slogan was "Moving Australia Forward", which she referenced nearly 40 times in her election announcement and press conference.
"'Moving Australia Forward' is utterly content-free," Abbott said.
"And the reason why she's desperate to talk about the future is because Julia Gillard's recent past is littered with failures, including the political corpse of an elected prime minister."
Deputy Prime Minister Wayne Swan was also taken to task about the frequent repetition of the phrase, as Nine Network journalist Laurie Oakes asked if voters were "too thick" not to understand it the first time.
"It's all about the policies, and the policies that we are putting forward to create a strong economy to spread opportunity are sensible policies which are opposed by the Liberal Party," Swan said.
Elsewhere, campaigning started in bruising fashion when an opposition Liberal candidate and a volunteer were physically attacked over the party's immigration policies while handing out flyers at a supermarket.
Voting in the first winter polls since 1987 looks set to hinge on the touchstone issues of people-smuggling, the economy and global warming, echoing the themes of the last election in 2007.
The centre-left Gillard will aim to portray the coalition as harking back to the 11-year rule of John Howard, while the right-leaning Coalition will try to show the prime minister as someone who cannot be trusted.
Gillard Sunday pledged 200 million dollars (174 million US) for affordable homes in regional cities, after rocketing prices put houses out of range for many Australians and saddled others with large mortgages.
Abbott meanwhile attacked Gillard's three weeks in office as "shambolic", referring to confusion over her plan to process asylum-seekers in East Timor, and compared Rudd's downfall to Labor's notoriously brutal state politics.
Both leaders are untested in running election campaigns and are long-time sparring partners, adding spice to a vote which Labor never looked like losing until Rudd's enduring popularity collapsed in recent months.
Gillard was deputy to Rudd, a Queenslander who ended conservative leader Howard's long-standing government by a landslide three years ago.
The Coalition needs a 2.3 percent swing to make Labor the first single-term government since World War II, with key marginal seats in the populous eastern states of Queensland, New South Wales and Victoria.