SYDNEY, Dec 24, 2009 (AFP) - Australian holidaymakers were evacuated Thursday from a campsite in the path of raging wildfires, a day after an inferno destroyed 13 homes in the country's southeast, officials said.
Fire crews in Victoria state were on high alert as strong winds and searing temperatures prompted extreme fire warnings, but most of the eight wildfires burning across the state had been brought under control, officials said.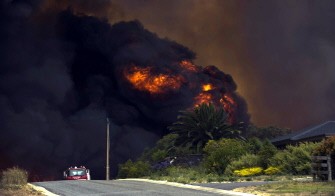 A wildfire approaches houses in Port Lincoln in South Australia on December 23, 2009 during catastrophic fire conditions (AFP photo)
Camping areas in East Gippsland north of Melbourne were evacuated, but a cooler change in the evening pushed flames away from properties and the campers were allowed to resume their Christmas celebrations.
"We're feeling really good about all of these fires so we're in pretty good shape -- as good as we could be at the moment," a Country Fire Authority spokesman said late Thursday.
The blazes come after February's "Black Saturday" inferno killed 173 people and flattened more than 2,000 homes in Victoria, in Australia's worst natural disaster of modern times.
Savage fires razed 13 homes and an emergency services building at Port Lincoln and Kingston in the neighbouring state of South Australia Wednesday.
Authorities said cooler temperatures and rain overnight had helped emergency crews bring some fires under control. Five firefighters were taken to hospital for smoke inhalation but no one was seriously injured.
Much of South Australia had on Wednesday been declared a catastrophic fire risk, when conditions are considered on a par with the Black Saturday firestorm and residents are urged to evacuate.
Meanwhile farmers in central New South Wales were being advised to stock up on food and medical supplies ahead of a major Christmas Day deluge, with the weather bureau forecasting the worst floods in a decade.
"We'd hope most people would be prepared to be (trapped) out there for five days, because that's how long it takes for floodwaters to subside," a spokesman for the NSW state emergency service said.
The heavy rains are expected as cyclone Laurence moves inland after hammering the country's west coast earlier this week.