SYDNEY (AFP) – An Indian-born surgeon dubbed "Doctor Death" was jailed for seven years in Australia on Thursday for the manslaughter of three patients and for injuring another with needless and botched operations.
Jayant Patel, 60, was facing a maximum life sentence after a Supreme Court jury found him guilty of criminal negligence at Queensland's Bundaberg Base Hospital.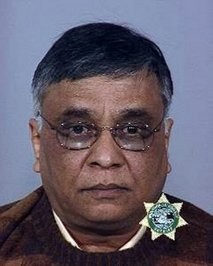 (AFP file) A Portland, Oregon police photo of Jayant Patel
"The community denounces your repeated serious disregard for the welfare of the four patients," Judge John Byrne told the court.
The seven-year term was less than the 10 years requested by prosecutors but harsher than the suspended sentence urged by Patel's lawyers. Patel will be eligible for release on parole after three-and-a-half years.
The prosecution had argued Patel was "motivated by ego and suffering from lack of insight" and was criminally negligent in operating on Gerry Kemp, 77, Mervyn Morris, 75, and James Phillips, 46, who all died.
The fourth patient, Ian Vowles, 63, suffered serious injuries when Patel removed his healthy bowel.
"Three lives were lost and Mr. Vowles will suffer for the rest of his life," Byrne said.
He added that Patel deliberately hid the fact that he had been found guilty of gross negligence in the United States before taking the job at Bundaberg, and was banned from doing the kind of operations he performed in Australia.
"The order for your surgical misadventures in Oregon gave very good reason to reflect before commending surgery to patients in Bundaberg ... yet you told no one about the order," the judge said.
An official inquiry into Queensland state's health system prompted by Patel's case linked him to numerous fatalities at Bundaberg hospital, and local politician Rob Messenger said there were at least 87 deaths under his watch.