Australian carrier Qantas scaled back growth plans and cancelled aircraft orders Wednesday in response to slowing domestic demand, as it grapples with high fuel costs and natural disasters.
Chief executive Alan Joyce said the airline was now eyeing 5.5 percent domestic capacity growth for 2011-12, compared with eight percent previously.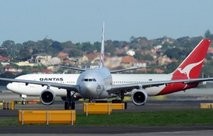 A Qantas Boeing 767-300 at Sydney International Airport.
Spending will be slashed by Aus$400 million (US$426 million) -- Aus$100 million from the second half of the current financial year, which ends this month, and Aus$300 million from 2011/12.
Aircraft lease plans will be reduced by Aus$300 million, added Joyce, with Qantas now expecting to take delivery of 34 aircraft in 2011-12 instead of the 43 previously announced.
Orders for 12 narrow-body jets will be cancelled or deferred, including three anticipated in the second half of this year.
Qantas has already warned it is planning slash capacity and jobs -- mostly management positions -- in response to a string of natural disasters and record jet fuel prices.
"The Qantas Group has always taken decisive action to match capacity to demand," said Joyce in a statement Wednesday, citing "slower overall growth rates in the domestic market".
"We are well-placed to retain our profit-maximising 65 percent domestic market share."
The announcement comes as an ash plume from Chile's Puyehue volcano wreaks travel chaos in Australia and New Zealand, forcing widespread flight cancellations and delays that have stranded thousands of travellers.
Shares in the national carrier were flat at Aus$1.88 following the news.
It has been a tough 12 months for Qantas.
The airline suffered about Aus$80 million in losses due to flooding and cyclones in Australia earlier this year, followed by a Aus$15 million hit from New Zealand's Christchurch earthquake.
The deadly tremor and tsunami in Japan wiped another Aus$45 million from the books.
And a mid-air engine explosion over Indonesia last November forced it to temporarily ground its entire A380 superjumbo fleet at a cost of Aus$80 million in the current financial year.
The Australian dollar's bullish run above parity with the greenback has also hit inbound international travel and seen a slump in the domestic market, as Australians seek cheaper holidays offshore.
Internally, Qantas is facing a damaging industrial row, with thousands of engineers, pilots and other staff threatening to walk off the job over fraught wage negotiations.
However, the "Flying Kangaroo" posted a four-fold increase in first-half net profit in February to Aus$241 million, saying the "general operating environment continues to improve."
It estimated that before-tax profits for the financial year ending in June would be "materially stronger" than the 2010 figure of Aus$377 million.