Australian prime minister-elect Kevin Rudd named his new cabinet Thursday after sweeping conservative leader John Howard from power in elections last weekend, calling it a "a team with fresh ideas".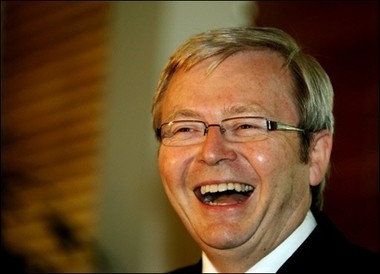 Australian Prime Minister-elect Kevin Rudd (Photo: AFP)
Rudd put education at the core of his future plans by appointing his deputy prime minister Julia Gillard to the education portfolio.

She also took the industrial relations ministry, to oversee the reversal of much-criticized workplace reforms by Howard which helped bring the veteran conservative down after 11 years in office.

Outgoing prime minister John Howard has been replaced by former defense minister Brendan Nelson was Thursday elected as the new leader of the Liberal Party, the party said.

Nelson won a close vote against multimillionaire candidate Malcolm Turnbull to secure the top job in the conservative party swept from power by prime minister-elect Kevin Rudd's centre-left Labor Party in weekend elections.

Labor party strategist Stephen Smith was named as foreign minister, giving a new voice to the vast state of Western Australia, while former party leader Simon Crean was named to the trade portfolio.

The new team would be sworn in on Monday, Rudd said.

"This is a team for the future. This is a team which I have selected," Rudd told a news conference, after he broke with the Labor Party tradition of bowing to factional demands and chose his team personally.

"I've been elected as prime minister of the country, my job's to put forward the best team for governing the country and I've done that," Rudd said, in justifying the move.

Rudd named close ally Wayne Swan as treasurer, with Lindsay Tanner as finance minister, and moved quickly to quash criticism from opponents that his government would be irresponsible with the booming economy.

"Wayne and Lindsay have already got down to work with the treasury and finance departments briefing papers and we will be meeting with those officials from those departments next week to begin the early work of framing the budget for the year 2008," Rudd said.

Former rock star Peter Garrett was named as environment minister, but lost the critical area of climate change to Penny Wong, who took on a separate role as minister for climate change, a key election issue.

Rudd said Wong would lead negotiations relating to the Kyoto Protocol, which he plans to ratify quickly, leaving the United States as the only major country not to have done so.

"Penny will have responsibility for our international negotiations on Kyoto and Kyoto plus, she will have responsibility for the negotiations of our domestic emissions trading regime," Rudd said.

Both Garrett and Wong would accompany Rudd to the Indonesian island of Bali next month for international climate change talks, Rudd said.

Joel Fitzgibbon was named to the defense portfolio, likely to be dominated by Rudd's plans to withdraw Australian troops from Iraq and a less cozy relationship than Howard's with the administration of US President George W. Bush.

Labor's leader in the upper house Senate, Chris Evans, was appointed as minister for immigration and citizenship. Rudd said border security was an important issue -- a reference to Howard's campaign against illegal asylum seekers.

Former foreign affairs spokesman Robert McClelland was appointed as attorney general, while the indigenous affairs portfolio went to Jenny Macklin, who will handle a controversial intervention in indigenous communities in the remote Northern Territory.

Former television journalist Maxine McKew, who is widely thought to have defeated Howard in his Sydney seat of Bennelong, was named parliamentary secretary to the prime minister.