VIENNA, March 3, 2011 (AFP) - The Austrian foreign ministry has asked the central bank to launch an inquiry into a henchman of Libyan leader Moamer Kadhafi living in Austria, media reports here said.
Foreign Minister Michael Spindelegger late Wednesday asked the bank to look into freezing the assets in Austria of Mustafa Zarti, who "might make them available to other representatives of the Libyan regime," a ministry spokesman said.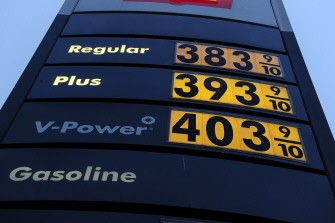 A sign shows gasoline prices at a gas station in Carson, California, the US March 2, 2011. The price of crude oil jumped to above USD102 a barrel as violent clashes in Libya between leader Moamer Kadhafi's forces and the opposition stoked concerns about the country's oil production. AFP
Zarti, vice-chairman of the Libyan Investment Authority, looked after Kadhafi's assets in Austria and had left Tripoli to take refuge in Vienna on February 21, according to the Thursday edition of conservative daily Die Presse and the weekly News.
Die Presse, quoting an unnamed source who used to be close to Kadhafi, said the assets in question were worth nearly 30 billion dollars (22 billion euros) and were mostly hidden away in foundations.
The Austrian central bank had indicated on Tuesday after a first check following sanctions decided by the European Union against Kadhafi and 25 people close to him that Libyan assets identified in Austrian bank accounts amounted to 1.2 billion euros, without saying exactly who they belonged to.
Zarti is a friend of Saif al-Islam, a son of Kadhafi who studied in Vienna and owns a luxurious villa in the Austrian capital.
"We don't know if Mustafa Zarti is in Austria at the moment," interior ministry spokesman Rudolf Gollia told AFP. The ministry said he is not on the list of people hit by the sanctions.