Hollywood blockbuster "Avatar" surged to a box office haul of more than one billion dollars globally on Sunday, faster than any other movie in history, an industry tracker reported.
Aided by consecutive holiday weekends and pricey 3-D tickets, total domestic sales for the science fiction epic reached 352 million dollars and an eye-popping 670 million internationally, according to estimated figures by Exhibitor Relations.
The astronomical performance since the movie's debut 17 days ago has already sealed its reputation as one of the most impressive box office performers of all time.
"It was the fastest ever to the one-billion-dollar mark," with "Avatar" now the third biggest grossing film ever, behind "Titanic" (1997) and "The Return of the King" (2003), the final movie in the Lord of the Rings trilogy, box office analyst Chad Hartigan of Exhibitor Relations told AFP.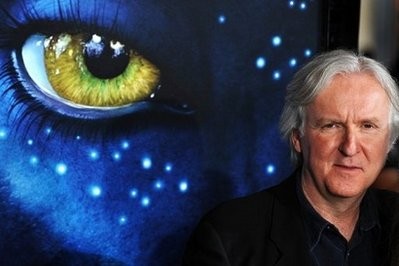 Director James Cameron arrives at the premiere of Avatar, at the Grauman's Chinese Theatre, in the Hollywood section of Los Angeles, California on December 16, 2009.
"Avatar" tells the story of paralyzed war veteran Jake, who is sent on a mission from Earth to the planet Pandora, where he falls in love with a blue humanoid named Neytiri of the alien Na'vi race.
Its New Year's weekend ticket sales of 68.3 million dollars easily set a domestic record for the biggest-ever third weekend for a film, while worldwide sales of 66.4 million for "Avatar" at IMAX also broke the record for the mega-screen format, according to Hollywood.com.
"It was expected to do well, but not this well,' Hartigan said.
Optimistic estimates hovered around 350 million domestically over its total run. "But to have that already in 17 days is ridiculous," Hartigan added.
"It's holding so well from week to week, at this point the sky seems to be the limit."
"Avatar" is director James Cameron's first film since the 1997 Oscar-winner "Titanic," which suffered production delays and severe criticism for its bloated budget, but eventually became the highest-grossing film of all time.
His latest masterpiece became the most expensive film ever made, at up to 500 million dollars.
"That poor guy is up against it every time," Hartigan said. "He seems to encounter serious doubt, and then delivers."
The previous weekend, earning 75.6 million dollars from Friday to Sunday, the film helped boost the North American box office to the highest-grossing weekend in movie history, at nearly 270 million dollars.
The figure smashed the previous best weekend mark of 260.3 million set in July 2008, when Batman blockbuster "The Dark Knight" opened to huge audiences in Canada and the United States.
Coming in a distant second for the weekend, but still with a respectable 38.3 million dollars, was Guy Ritchie's "Sherlock Holmes." Its two-week total has now reached 140 million dollars.
In third place, also in its second week, was the comedy "Alvin and the Chipmunks: The Squeakquel," which took 36.6 million dollars, for a total of 157 million.
Holding firm in fourth place was "It's Complicated," a love triangle comedy starring Meryl Streep, Alec Baldwin and Steve Martin, earning 18.7 million dollars.
Fifth place belonged to "The Blind Side," about a white couple who give an illiterate black teen a home and a new lease on life, with 12.6 million dollars.
"Up in the Air," starring George Clooney in the acclaimed story of a corporate downsizer who questions his role in life, held sixth place, with 11.3 million dollars.
Disney's "The Princess and the Frog" took seventh, with 10 million, while eighth place went to romantic comedy "Did You Hear About the Morgans?" with 5.0 million.
Finding itself in ninth was the appropriately named "Nine," the Broadway musical's film adaptation starring Daniel Day-Lewis as a film director in mid-life crisis juggling a wife (Marion Cotillard), mistress (Penelope Cruz) and film star muse (Nicole Kidman). It scored 4.2 million dollars.
Rounding out the top 10, with 4.1 million, was "Invictus," about how South African president Nelson Mandela united the country around the 1995 Rugby World Cup.