Box office ticket sales in North America hit a record high for the Christmas weekend, a ticket sales tracking company said Sunday, with innovative science-fiction adventure "Avatar" topping the pack of hit films.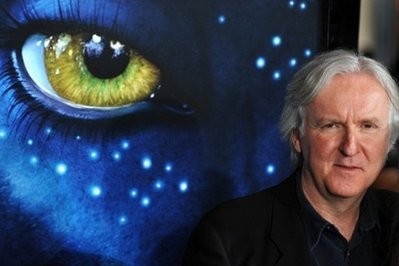 Director James Cameron arrives at the premiere of "Avatar" at the Grauman's Chinese Theatre, in Hollywood earlier this month. (AFP Photo)
Overall weekend takings reached 275 million dollars, the highest in the film industry's history, industry tracker Exhibitor Relations reported.
The effects-laden, 3-D epic "Avatar" -- director James Cameron's first film since the 1997 Oscar-winner "Titanic" -- raked in 75 million dollars from Friday to Sunday, according to preliminary estimates by Exhibitor Relations.
The film, which cost between 300 and 500 million dollars to produce, is also the most expensive movie ever made.
"Avatar" was followed by a slew of new releases, including Guy Ritchie's "Sherlock Holmes," starring Robert Downey and Jude Law, which earned 65.4 million dollars since its opening on Christmas Day. Together with "Avatar" they accounted for 53 percent of the weekend box office.
Opening in third place was the comedy "Alvin and the Chipmunks: The Squeakquel" -- a movie the Washington Post said was a minor Christmas miracle because it "isn't entirely awful." The "Squeakquel" pulled in estimated takings of 50.2 million dollars.
"It's Complicated," a love triangle comedy starring Meryl Streep, Alec Baldwin and Steve Martin, opened in fourth place with 22.1 million dollars in takings.
In fifth place with 11.6 million dollars was "Up in the Air," starring George Clooney in the acclaimed story of a corporate downsizer who questions his role in life. The movie has received rave reviews and is likely to be on the short list as the year's best films are chosen.
Sixth was "The Blind Side," a drama about a white couple who give an illiterate black teen a home and a new lease on life. The film scored 11.7 million dollars in its sixth week of release.
Disney's animated movie "The Princess and the Frog," the first featuring an African-American princess, dropped to seventh place with 8.6 million dollars. It opened on December 11.
Next was "Nine," starring Daniel Day-Lewis as a film director in mid-life crisis juggling a wife (Marion Cotillard), mistress (Penelope Cruz) and film star muse (Nicole Kidman). The film adaptation of a Broadway musical based on the Federico Fellini film "8 1/2" made 5.5 million dollars at its official US opening.
Ninth place went to "Did You Hear About the Morgans?" a romantic comedy in which Hugh Grant and Sarah Jessica Parker play an estranged couple who witness a mob hit and are placed in a witness protection program. It grossed 5.0 million dollars in its second week.
Rounding out the top ten with 4.4 million dollars was "Invictus," directed by Clint Eastwood and starring veteran actor Morgan Freeman, about how South African president Nelson Mandela united the country around the 1995 rugby World Cup.
Overall weekend box office takings in North America over the Christmas weekend reached an estimated 275 million dollars, topping the previous high-water mark of 260.3 million for the weekend of July 18, 2008, when the Batman movie "The Dark Knight," the musical "Mamma Mia!" and superhero comedy-drama "Hancock" topped the charts, Exhibitor Relations said.
At 10.3 billion dollars, box office takings for the year, so far, are also the highest on record. Expected to finish at 10.5 billion, 2009 will top 2008, which raked in 9.6 billion, the industry trackers said.