Science-fiction blockbuster "Avatar" took top honors at the 67th Golden Globes here Sunday, winning best picture and director to cement its status as an Oscars front-runner.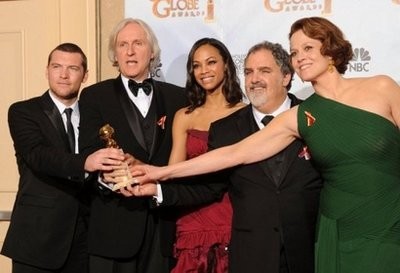 The cast of Avatar which won the Best Motion Picture, Drama award at the 67th Annual Golden Globe Awards held at The Beverly Hilton Hotel on January 17.
The ground-breaking epic from "Titanic" director James Cameron -- on course to become the highest-grossing film in history -- was the big winner on a night when honors were largely spread across several films.
The movie has been hailed as a cinematic milestone for its use of state of the art 3-D cameras and motion capture technology which Cameron was instrumental in helping to develop.
"This is the best job in the world," Cameron told a star-studded audience at the Beverly Hilton Hotel after accepting the best motion picture drama award. "What we do is we make entertainment for a global audience, and that's what the Golden Globes mean."
Since its release in December, "Avatar" has earned an astonishing 1.6 billion dollars worldwide and is rapidly closing in on the 1.8 billion dollar record of Cameron's 1997 Oscar-winner "Titanic."
Accepting the best director award earlier, a delighted Cameron said he had been expecting to lose out to ex-wife Kathryn Bigelow, who had been nominated for her powerful Iraq war drama "The Hurt Locker."
"I'm unprepared. Frankly I thought Kathryn was going to get this," Cameron said. "But make no mistake I'm very grateful."
Part of Cameron's speech was also made in Na'vi -- the language spoken by the blue-skinned peace-loving alien heroes of "Avatar."
The Golden Globes are seen as a key staging post in the sprint towards the ultimate prize of the Oscars, which take place on March 7 this year, and often help shape the field of likely best picture contenders.
However Hollywood awards shows rarely honor fantasy films, and "Avatar" was expected to face stiff competition from Bigelow's "The Hurt Locker," Quentin Tarantino's "Inglourious Basterds", "Precious" and "Up In the Air."
"Up In the Air" had started the night as one of the hot favorites with six nominations but in the event had to settle for one -- best screenplay.
Another big loser on the night was musical "Nine", which started the night with five nominations but finished empty-handed. "Nine" was pipped for best musical or comedy by the raucous "The Hangover."
The acting awards saw popular honors going to veterans Jeff Bridges and Sandra Bullock.
Bridges, 60, won the best drama actor prize for his portrayal of a washed up country singer in "Crazy Heart."
Bridges, who had been nominated for a Golden Globe on three previous occasions but never won, has earned widespread acclaim for the role and received a lengthy standing ovation as he walked to the stage.
"You're really screwing up my under-appreciated status," he quipped before dedicating the award to his wife and family.
Bullock took best drama actress prize for her portrayal of an inspirational mentor in "The Blind Side."
The 45-year-old veteran beat out fellow nominees Emily Blunt ("The Young Victoria), Helen Mirren ("The Last Station"), Carey Mulligan, ("An Education") and Gabourey Sidibe ("Precious").
Elsewhere, Hollywood icon Meryl Streep scooped a record seventh Golden Globe win for her portrayal of television chef Julia Child in "Julie & Julia."
The 60-year-old won in the best comedy actress category, where she was also nominated for "It's Complicated."
The best comedy actor prize was taken by Robert Downey Jr for his performance in "Sherlock Holmes" as the legendary Victorian super-sleuth.
The supporting acting awards went to Austria's Christoph Waltz for "Inglourious Basterds" and Mo'Nique for "Precious."
Australian screen icon Nicole Kidman had got Sunday's awards under way with an appeal for donations to the Haiti earthquake relief effort.
"I just want to say on a serious note a lot of people are wearing ribbons tonight in support of the people of Haiti, and you can go to NBC.com to make your personal contribution," Kidman said.
List of selected winners at 67th Golden Globe Awards here Sunday:

Best Motion Picture -- Drama
- "Avatar"

Best Director
- James Cameron "Avatar"

Best Performance by an Actor in a Motion Picture -- Drama
- Jeff Bridges "Crazy Heart"

Best Performance by an Actress in a Motion Picture -- Drama
- Sandra Bullock "The Blind Side"

Best Motion Picture -- Musical or Comedy
- "The Hangover"

Best Performance by an Actress in a Motion Picture -- Musical or Comedy
- Meryl Streep "Julie & Julia"

Best Performance by an Actor in a Motion Picture -- Musical or Comedy
- Robert Downey Jr "Sherlock Holmes"

Best Supporting Actor in a Motion Picture
- Christoph Waltz "Inglourious Basterds"

Best Supporting Actress in a Motion Picture
- Mo'Nique "Precious"

Best Foreign Language film
- "The White Ribbon"