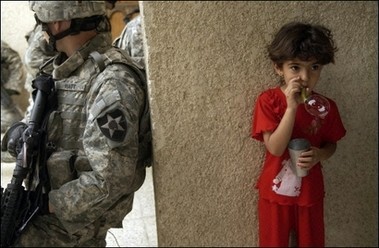 A picture released by the US military 20 June 2007 shows an Iraqi girl blowing bubbles while US soldiers keep an eye on the street outside of her house in Baghdad.
A rush-hour car bomb attack at a Baghdad bus stop killed 21 people and wounded dozens on Thursday.
A parked car exploded next to commuters waiting at a bus stop in the capital's southern Al-Bayaa neighbourhood, killing 21 people and wounding 42 more, hospital and security officials said.
Iraqi security officials said the explosion occurred at around 8:15 am (0415 GMT) and expected the death toll to rise. The US military confirmed the attack and said it was investigating.
A medic in the city's Yarmuk hospital confirmed receiving the bodies of 21 people killed in the blast and said ambulances were still arriving with victims.
The targeted neighbourhood, a mixed area in southwest Baghdad, is often the scene of clashes between Shiite militiamen and Sunni insurgents, and has been hit by several car bombs during Iraq's sectarian conflict.
Although the area lies in the mostly Sunni western half of the city, US commanders there say the Shiite Mahdi Army militia maintains an intimidating presence and has driven many Sunnis from their homes.
The evictions have brought retaliatory car bombs and an escalating cycle of violence, despite the increased presence of US and Iraqi forces following the launch of a Baghdad security crackdown in February.
A similar late night blast on Wednesday in Baghdad's Shiite neighbourhood of Kadhimiyah killed 10 people. That explosion was at an intersection in the neighbourhood which houses the revered shrine of Shiite Imam Musa Kadhim.
Insurgents have carried out several high-profile car bombings in Baghdad -- the epicentre of the communal bloodletting -- despite the increased presence of US and Iraq troops.