Police fired tear gas and water cannon Sunday at demonstrators protesting against Bahrain's royal family in one of the most violent confrontations since troops killed seven protesters last month.
Bahrain's crown prince offered the mainly Shi'ite opposition assurances that national dialogue would address their demands, hours after the protesters, mainly youths, built barricades across the highway leading to Bahrain Financial Harbour.
"Investment in Bahrain is for everyone not just one person," said Ali, a protester at the Financial Harbour which has become a symbol of what protesters say are royal excesses. "That's why we have problems. It's not about Sunnis and Shi'ites."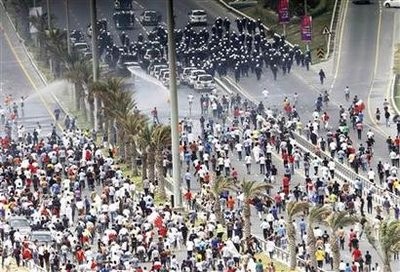 Anti-government protesters confront riot police on a flyover near the Pearl Square in Manama, March 13, 2011.
One protester showed a red mark on his chest, which he said was from a gas canister shot directly at him. Others showed a Reuters reporter rubber bullets they said were fired by police.
Bahrain has been gripped by its worst unrest since the 1990s after protesters took to the streets last month, inspired by uprisings that toppled the leaders of Egypt and Tunisia.
The kingdom has seen weeks of rallies by its Shi'ite majority, which says it is discriminated against by the Sunni royal family. The unrest is being closely watched in Saudi Arabia, where Shi'ites are some 15 percent of the population.
The White House urged Bahrain, home to the U.S. Navy's Fifth Fleet, to show restraint and engage in dialogue.
Sheikh Salman al-Khalifa promised national dialogue would look at bolstering the power of the parliament and that any deal could be put to nationwide referendum.
In a statement, he said talks would also look at reforming electoral districts and the makeup of the government, as well as fighting corruption and sectarian discrimination. The talks would also address accusations by the Shi'ite majority that the state naturalizes Sunni foreigners to tip the sectarian balance.
"We have worked actively to establish contacts to learn the views of various sides ... which shows our commitment to a comprehensive and inclusive national dialogue," he said.
"NO DIALOGUE"
Moments later, a speaker at Pearl roundabout, focal point of the protests, said "no dialogue, no dialogue" to cheers from the crowd.
"This is no step forward," said Ibrahim Mattar, a spokesman for the largest Shi'ite Muslim party Wefaq. "We want to know what is the mechanism for dialogue? Who will take part?"
Bahrain's rulers offered dialogue last month. Wefaq has asked the government to offer good will gestures such as removing the cabinet in which key posts are dominated by royals.
Mattar told Reuters earlier that two protesters had been taken to hospital with serious head wounds while dozens had collapsed after inhaling tear gas Sunday.
The Interior Ministry said riot police had moved to clear protest tents from Bahrain Financial Harbour after one policeman was stabbed and another was taken to hospital with head wounds.
Protesters had cut off the main road to prevent employees from reaching their offices.
A Western banker who declined to give his name said the protesters had stopped him from entering the Financial Harbour: "They didn't let me through and they were very aggressive. This is not peaceful any more. It's time for police to stop this."
There have been few major confrontations between protesters and police since last month, but there have been clashes between mainly Shi'ite opponents of the government and Sunni supporters.
In Hidd, near Bahrain's airport, Sunni residents checked the identities of those entering the area. In some areas, vigilantes wore orange vests to identify each other.
In another incident, police fired tear gas to separate a group of Shi'ite protesters at Bahrain University from a group of Sunnis. Witnesses said several people were wounded in the clashes.
"This sensitive situation that the kingdom is passing through cannot stand any more tension and escalation as the biggest loser from this ... is the national economy that has been exposed to major losses in the recent period," the Chamber of Commerce and Industry said in a statement.