KINSHASA, Feb 28, 2009 (AFP) - UN chief Ban Ki-moon Saturday met Congolese President Joseph Kabila and urged steps to buttress peace in the country's east after a successful military offensive against Rwandan Hutu rebels.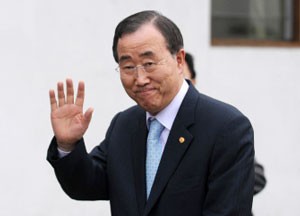 UN Secretary General Ban Ki-moon waves after arriving at Heal Africa Hospital on February 28, 2009 in Goma, Congo (Photo: AFP)
Ban, who arrived early Saturday in the Democratic Republic of Congo, met Kabila in northeastern Kisangani, Ban's spokesman Yves Sorokobi told AFP.

"The recent developments have offered an opportunity to the Congolese authorities as well as to MONUC (the UN peacekeeping mission in the country) to reinforce our commitment" in the east, he told Kabila, according to Sorokobi.
The secretary general also called on the authorities to seize the recent calm to "reinforce the authority of the state and ensure a more efficient way of protecting civilians."
A "more robust" MONUC presence will allow the country to "secure the gains" in the long term of a recent joint Rwandan-Congolese operation against Hutu rebels, Ban added, although he did not elaborate.
Ban later Saturday travelled to Goma, capital of the eastern Nord-Kivu province, where an offensive by renegade Tutsi general Laurent Nkunda against the Congolese army led to a fresh outbreak of unrest last August.
Following the unrest, which displaced more than a quarter of a million people and sparked a humanitarian crisis, Rwanda and Congo launched a joint operation on January 20 against Hutu rebels in the province.
Rwandan forces left Congo this week following the successful operation against the Democratic Forces for the Liberation of Rwanda (FDLR) -- whose members include perpetrators of Rwanda's 1994 genocide mainly against minority Tutsis.
Officials have said 153 rebels and eight alliance soldiers were killed in the operation.
One of the earliest results of the operation was the capture of Nkunda on January 22 in neighbouring Rwanda.
Following his arrest, most CNDP leaders abandoned Nkunda and a preliminary peace pact was signed on February 22. It was due to be validated soon by mediators in Nairobi.
Meanwhile, a dozen pro-government militias in neighbouring Sud-Kivu have also agreed to stop fighting and say they will disarm.
The militias decided to disarm after Nkunda's capture as his forces had also held sway over tracts of both Nord- and Sud-Kivu.
The arrest of Nkunda by Rwandan troops was a dramatic turnaround with Kigali accused only weeks earlier of backing the cashiered Congolese general.
Despite the success of the operation, British Charity Oxfam, warned Saturday that civilians would be at risk over coming weeks as Congolese army personnel continued to track down Hutu rebels.
"Civilians are at enormous risk of violence in the coming weeks, with military operations against FDLR rebels set to expand," the organisation said in a statement.
"There is a worrying perception that as a result of the offensive, the threat to civilians has been lifted but this is not the case. The next few months are likely to be even more dangerous for civilians as the offensive expands," it said.
Oxfam also highlighted the fact a deployment of 3,000 extra peacekeepers approved by the UN Security Council last November had not taken place.
Ban, meanwhile, has refused to be drawn on the fate of Nkunda who the Congolese authorities say should be handed over to Kinshasa to face war crimes charges.
"I have no answer for that... it is a matter to be decided by (Paul) Kagame and (Joseph) Kabila," he said on Friday ahead of his visit, referring to the Rwandan and Congolese presidents.
The UN secretary general was due to wrap up his African tour with visits to Rwanda and Egypt.