KABUL, Nov 2, 2009 (AFP) - UN chief Ban Ki-moon flew into Kabul on Monday to meet President Hamid Karzai over Afghanistan's election crisis as pressure mounted for a run-off poll to be axed after the only challenger pulled out.
The surprise visit from Ban accompanied a diplomatic push to ensure the November 7 one-horse race does not take place, despite the insistence from some officials that it is too late to halt the process.
Ban's visit comes a day after former foreign minister Abdullah Abdullah announced he would not participate in this week's election for fear that widespread fraud which discredited the first round would be repeated.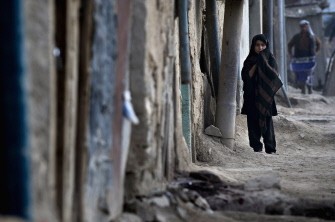 A girl stands on a street in the old city of Kabul on November 1, 2009. Abdullah announced on November 1 that he was pulling out of this week's run-off presidential election in Afghanistan. (AFP photo)
Ban would meet both Karzai and Abdullah as well as show his solidarity with staff following a deadly Taliban suicide attack on a guesthouse for UN staff, according to a statement.
"Secretary General Ban has now arrived in the country to express his solidarity with the men and women of the United Nations following last week's tragic events," said the UN statement.
"He will be meeting with President Karzai during the course of the day as well as with Dr Abdullah," it added.
While there were no details on what Ban intended to say to the two men, a UN spokesman has said it was "difficult to see" how Afghanistan could hold an election in just five days' time with only one candidate.
A senior European diplomat said there was great unease about staging such a contest at a time when a Taliban insurgency is gathering pace.
"Clearly we know that practically, going to the vote means a big expense and the possibility of a loss of life both of international and Afghan security forces," he told AFP on condition of anonymity.
"At the moment it's like a 15-round boxing match when after 12 rounds one of the two fighters says for one reason or another, 'I am leaving'. The question is whether the match should stop or still go on."
After Karzai snubbed a series of demands promoted by his rival as a chance to avoid a repeat of massive first-round fraud, Abdullah said on Sunday that he saw no point in standing, but stopped short of calling for a boycott.
The Independent Election Commission (IEC), whose top officials were appointed by Karzai, said the run-off would take place as scheduled on Saturday with a spokesman saying the deadline for Abdullah to withdraw had passed.
"The deadline to withdraw has passed, therefore the commission is determined to conduct a run-off election," chief electoral officer Daoud Ali Najafi said.
"We'll go for a run-off as scheduled," Najafi told AFP.
But Karzai opened the door to a possible alternative, saying he would "be obliged to follow" any ruling from the electoral or judicial authorities.
Insistent the first round fraud had been overstated, Karzai only agreed to a run-off under extensive diplomatic pressure.
But US Secretary of State Hillary Clinton said it was now up to the Afghan authorities "to decide on a way ahead that brings this electoral process to a conclusion in line with the Afghan constitution."
Following the fraud in the first round on August 20, Abdullah demanded Karzai sack the IEC's head, Azizullah Ludin, and suspend three cabinet ministers who campaigned for the incumbent.
Karzai's share of the vote in the first round fell to 49.67 percent after around a quarter of all votes were deemed fraudulent.
Abdullah won just over 30 percent and would have had a mountain to climb to overhaul Karzai.