BANGKOK, Oct 24, 2011 (AFP) - Millions of people in the Thai capital nervously prepared for the advancing and seemingly unstoppable flood waters Monday after a fresh warning for residents to evacuate certain danger zones.
The Bangkok Metropolitan Authority (BMA) said late Sunday that large volumes of water were flowing towards low-lying Bangkok and were closing in on six city districts, including areas just north of the city centre.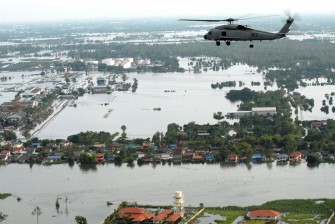 AFP - In this image released by the US Navy Visual News Service October 23, 2011 shows an SH-60F Sea Hawk helicopter assigned to Helicopter Anti-Submarine Squadron (HS) 14, flies around the Bangkok area.
The announcement came after the Thai government said it would set up a distribution centre in Bangkok to help replenish empty supermarket shelves in preparation for the floods that have so far largely spared the capital.
Other parts of the country have been plagued by three months of heavy monsoon rains, which have killed more than 350 people in Thailand and damaged the homes and livelihoods of nine million people.
The six Bangkok districts now of pressing concern include Chatujak, home to a giant weekend market popular with tourists, and Don Mueang, where the city's second largest airport is currently doubling up as a flood refuge centre.
The BMA on Sunday called on residents in these areas who faced "potential dangers to lives and properties" to evacuate to emergency shelters.
"In particular, priority must be assigned to the sick, young and elderly," said the statement, asking the public not to panic.
The government has also said it would discuss measures in a cabinet meeting on Tuesday to help the nation's hundreds of flood-affected factories get back on track, with financial aid and tax incentives among the ideas mooted.
Authorities are desperately trying to drain billions of cubic metres of water from upcountry out to sea through rivers and canals in and around the city by opening sluice gates in the capital -- a risky strategy.
"There are several factors that we can't control. The water is coming in two directions," Prime Minister Yingluck Shinawatra told reporters on Sunday.
Another major test is expected between October 28 and 30 when seasonal high tides flow up Bangkok's Chao Phraya river, meeting run-off water from the north.
Yingluck said the city should prepare for possible inundation up to one metre (three feet) deep and warned it could take six weeks for the flooding to recede.
Thai troops on Sunday reinforced vulnerable barriers along the Chao Phraya river after a sudden rise in the water level, and authorities have urged about 3,000 people living along its banks to move to temporary shelters.
Thammasat University, serving as a shelter to the north of Bangkok, was due to start evacuating refugees on Monday morning after water levels inside the campus reached 1.5 metres (4.9 feet), vice rector Kampol Ruchiwit told AFP.
Across the country, more than 110,000 evacuees have been forced to seek refuge in 1,743 shelters to escape the waters.
Most of Thailand's top tourist destinations and the capital's main airport have so far been unaffected.