BANGKOK, Oct 26, 2011 (AFP) - Thailand's premier on Wednesday warned a confused and on-edge Bangkok that incoming floods could last for four weeks, as panic buying peaked and rising waters shut down the city's second airport.
Prime Minister Yingluck Shinawatra told reporters that the capital's flood barriers might not be able to hold back a mass of run-off water from the north as the country continued to grapple with its worst flooding in decades.

"But I'm fifty percent confident that the inner zone of Bangkok will not be completely flooded," she said, apparently toning down her comments from the previous evening when she said central Bangkok flooding was "highly likely".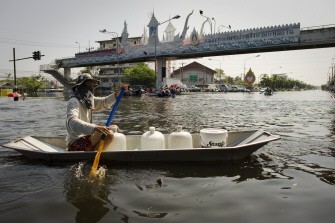 AFP - A local resident uses a boat to get water, in a street in the flood waters, in Rangsit, Pathum Thani Province, outskirts of Bangkok, on October 25, 2011.
The crisis has been plagued by contradictory information from national and local authorities, further confusing the city's 12 million residents who have been bracing for the onslaught of water for days now.
A high tide this weekend is expected to surge up Bangkok's already swollen Chao Phraya river, and Yingluck said a "worst-case scenario" would see parts of low-lying Bangkok submerged in "more than one metre" (3 feet) of water.
"Initially, the floods in Bangkok will last for two weeks to one month," she added.
Many supermarkets were running low on essential items such as bottled water and eggs as panic-buying reached fever-pitch.
"The most critical shortage is drinking water," Yingluck said, advising people to drink boiled tap water.
On Tuesday, the government ordered a five-day holiday from October 27-31 for 21 provinces, including Bangkok, allowing the city's residents to prepare for the inundation or leave the capital.
Schools and government offices will be closed and the government has urged public and private companies to allow their staff the time off, but the central bank said financial markets would not shut down and banks would stay open.
The city's main air hub, Suvarnabhumi, is operating as normal but domestic Don Mueang airport, in the north of the capital, suspended flights until November 1 after waters started seeping onto the runways on Tuesday.
About 4,000 flood evacuees who had found refuge at a disused terminal on the compound were being moved to other shelters.
Despite the rising waters, Yingluck said the government would not to move its flood relief centre, which is located on the second floor of one of the airport buildings.
More than 370 people have been killed in the three-month-old flood crisis caused by unusually heavy monsoon rains, damaging the homes of millions of people and forcing tens of thousands into evacuation centres.
The government said it has set up special mental health units across the country and dispatched teams of psychiatrists and psychologists to help almost 100,000 people thought to be suffering from flood-related stress.