One Thai protester was killed and 22 wounded Thursday in a blast at a Bangkok demonstration site, police said, raising fears of an upsurge in political violence after a recent lull.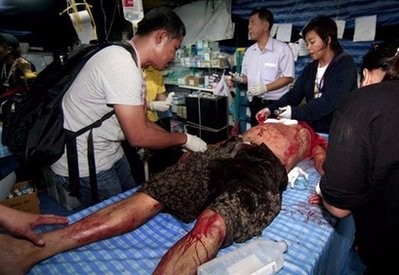 One Thai protester was killed and 22 wounded in the blast in Bangkok on Nov. 20, 2008. (AFP Photo)
The explosion hit before dawn at the prime minister's Government House offices, in the first deadly attack inside the compound since anti-government protest group the People's Alliance for Democracy (PAD) occupied it in August.
PAD leaders accused the government of being behind the attack and called for massive protests against the current administration, which they accuse of being corrupt and a proxy for ousted prime minister Thaksin Shinawatra.
Prime Minister Somchai Wongsawat immediately denied any involvement and vowed a swift police investigation into the incident.
"It is not government policy to use force or violence," Somchai told reporters. "No one wants bloodshed or killing among Thais."
Thailand has been gripped by escalating political turmoil since May when the PAD began their rallies, but there was a respite for the six-day funeral of Princess Galyani, late sister of deeply-revered King Bhumibol Adulyadej.
The elaborate cremation ceremonies ended Wednesday evening, and within hours the blast hit in front of a stage at the sprawling Bangkok protest site, where hundreds of people are camped out in a fortified tented city.
Twenty-three wounded demonstrators -- 12 men and 11 women -- were taken to four nearby hospitals, an emergency services spokesman said. One 48-year-old man later died, while 11 of the victims remain in a serious condition.
General Jongrak Chutanont, deputy national police chief, said that the explosion was caused by a grenade fired from an M 79 rocket-launcher.
The months-long stand-off erupted into bloodshed on October 7 when police fired tear gas at demonstrators trying to block parliament, sparking clashes that left two people dead and nearly 500 injured.
A number of small blasts have rocked the PAD protest camps in the weeks since the bloody street battles, injuring several people.
Police meanwhile have said the PAD's personal militia who guard the protest camp -- known as the "Srivijaya Warriors" -- are armed, and two people have been shot after rows near the occupied compound in central Bangkok.
On Wednesday, government spokesman Nattawut Saikuar said PAD supporters had broken into a Special Branch office at Government House and looted firearms.
Thaksin, who was ousted in a military coup in 2006 and is living in exile to avoid corruption charges, is set to make a telephone address to his supporters next month, which could further inflame the situation.
Thaksin's allies in the People Power Party won elections in December, angering the old power cliques in the palace, military and bureaucracy who tried to rid Thailand of Thaksin's influence.
Somchai, Thaksin's brother-in-law, has been working with his cabinet from an abandoned airport terminal since demonstrators seized his offices in August.
Parliament elected Somchai as prime minister on September 17 after his predecessor Samak Sundaravej was forced from office by a court that ruled he had been illegally paid for hosting TV cooking shows.