Millions of people in the Thai capital nervously prepared for advancing and seemingly unstoppable floodwaters on Monday after residents in areas deemed most at threat were urged to leave.
Bangkok authorities warned that large volumes of water were flowing towards the low-lying capital and were closing in on six of Bangkok's 50 districts, including areas just north of the city centre.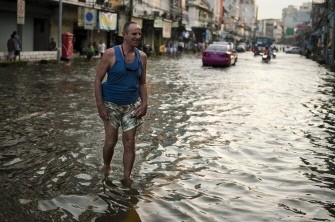 A tourist walks in floodwaters near the Chao Praya river in Bangkok, on October 24, 2011
Adding to concerns was the danger posed by crocodiles, after a number of the reptiles escaped from flooded farms. Some of the animals had been captured in one province north of Bangkok.
The World Health Organisation also told people to beware of electrocution and snake bites while warning that infections and water-borne and communicable diseases, such as diarrhoea, were key concerns for flood victims.
"If water keeps coming into those six districts the situation may reach dangerous or critical levels," city governor Sukhumbhand Paribatra said in a televised address.
His administration called late Sunday on residents in these areas who faced "potential dangers to lives and properties" to evacuate to emergency shelters, with priority given to the young, sick and elderly.
The announcement came after the Thai government said it would set up a distribution centre in the capital to help replenish empty supermarket shelves in preparation for the floods, which have so far largely spared the city.
Other parts of the country have been plagued by three months of heavy monsoon rains that have killed more than 350 people in Thailand and damaged the homes and livelihoods of nine million people.
The six Bangkok districts now of pressing concern include Chatujak, home to a giant weekend market popular with tourists, and Don Mueang, where the city's second largest airport is currently doubling up as a flood refuge centre.
"If anything affects Bangkok it will have an impact on the whole country," Sukhumbhand said.
Hospitals in flood-risk zones have been instructed by the public health ministry to stockpile medicines and other supplies to last as long as three weeks.
Prime Minister Yingluck Shinawatra again rejected criticism that her administration was not keeping the public fully informed, telling reporters there was "no cover-up but new factors arise every day".
Yet the premier "will definitely lose some support" over her handling of the crisis, according to Paul Chambers, Director of Research at the Southeast Asian Institute of Global Studies at Payap University in Chiang Mai.
"Whether it will jeopardise her government is yet to be determined," he told AFP.
In the city centre, residents stocked up on food and bottled water and piles of sandbags were mounting around buildings.
"I'm more worried about having enough food," said advertising executive Benjamas Ngamsuriyaphong, 28, in the upmarket food hall of a department store, complaining that "only the expensive water" was left on the shelves.
The government has said it would on Tuesday discuss economic measures to help flood-affected factories get back on track, with financial aid and tax incentives among the ideas mooted.
Authorities are desperately trying to drain billions of cubic metres of water from upcountry out to sea through rivers and canals in and around the city by opening sluice gates in the capital -- a risky strategy.
A major test is expected between October 28 and 30 when seasonal high tides flow up Bangkok's Chao Phraya river, meeting run-off water from the north.
Yingluck has said the city should prepare for possible inundation up to one metre (three feet) deep and warned it could take six weeks for the flooding to recede.
Thammasat University, serving as a shelter to the north of Bangkok, began evacuating people early on Monday after water levels inside the campus reached 1.5 metres, vice rector Kampol Ruchiwit said on television.
Across the country, more than 110,000 evacuees have been forced to seek refuge and tens of thousands of soldiers and police have been mobilised to maintain order.
Most of Thailand's top tourist destinations and the capital's main airport have so far been unaffected.