Bangladeshi rescue workers on Sunday pulled more bodies from a capsized ferry as police said at least 37 people had died and warned that "scores" more corpses remained in the vessel.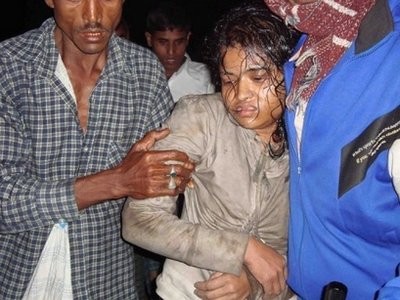 A woman is rescued from a capsized ferry in the remote coastal village of Bhola, some 255 kms south of Dhaka.
Local police chief Zakir Hossain told AFP that four more victims were retrieved from one of the cabins that was locked when the crowded MV Coco 4 overturned late on Friday.
"Scores more bodies are still trapped underwater. There is no chance that they have survived," Hossain said, adding that a specialist rescue boat had joined the salvage operation.
Weeping relatives of missing passengers gathered on the banks of the river Tentulia in the remote southern village of Nazirpur as divers searched the partially sunk boat.
The triple-decked ferry, which had a capacity of 665, "was overcrowded with over 1,000 passengers" when it started taking on water as it came into dock, Hossain said.