Bangladesh went to the polls under tight security Monday in the first elections here since 2001, with a pair of former leaders and bitter rivals vying to reclaim power in the impoverished nation.
The vote will restore democracy to the south Asian country after two years of caretaker rule by an army-backed interim government, installed after a wave of political violence prevented the last scheduled elections.
Thousands queued at polling stations in thick early morning fog, with hundreds of thousands of police and soldiers deployed to avert clashes between rival supporters and feared attacks by Islamic extremists.
Despite attempts by the caretaker regime to shake up a political system long seen as deeply corrupt, the two leading candidates are fierce rivals who have ruled alternately since 1991.
Sheikh Hasina Wajed of the Awami League and Khaleda Zia of the Bangladesh Nationalist Party (BNP) both wooed voters with last-minute promises of lower food prices, action against Islamic militancy and curbs on corruption.
The women, who were themselves jailed on corruption charges by the current caretaker regime but then released to contest the elections , ended campaigning with televised speeches that pledged a new style of politics.
"I know you are aware of our mistakes," Zia said in her speech. "I ask for your forgiveness. I can assure you that we will take lessons from the past."
Sheikh Hasina vowed to end hunger and poverty in the grindingly poor country of 144 million people, an overwhelmingly Islamic nation that won independence from Pakistan in 1971.
"We want to steer the country to peace and prosperity," she said.
With a third of the 81 million electorate voting for the first time, analysts say the result is far from certain, leading to concern that if no clear winner emerges a smooth transfer of power could prove tricky.
Police have captured two dozen militants and seized explosives, grenades and bombs in recent days, but campaigning has been free of the widespread violence seen in past elections.
A state of emergency imposed nearly two years ago was lifted less than two weeks before voting.
Armed troops lined the streets of the capital Dhaka, among 50,000 on alert nationwide, while 600,000 police officers were deployed across the country to ensure no disruptions or voter fraud at the 35,000 polling booths.
Chief adviser Fakhruddin Ahmed, the former banker who has run Bangladesh under an interim administration for the last two years, urged the nation to use its vote wisely.
"You must remember that you cast a vote on one day, but live with the results for five years," he said. "We hope everyone will accept the election results without hesitation or doubt."
Ahead of the election, UN Secretary General Ban Ki-moon urged all political parties to accept the result and to "work together in a spirit of dialogue and compromise."
In one of the few violent incidents, protesters on Saturday hurled stones at the motorcade of former military dictator Hussain Muhammad Ershad, who heads the small Jatiya Party.
Elsewhere minor fighting erupted between rival Awami League and BNP supporters, but the hot tempers on show in previous elections have been largely absent.
Hours before the polls opened, national police chief Nur Mohammad warned that his men would "take drastic action if anyone dares to create any violence."
The army-backed government took power in January 2007 after months of political violence, which killed at least 35 people.
The unrest prompted President Iajuddin Ahmed to cancel elections and impose the state of emergency, which was lifted only on December 17.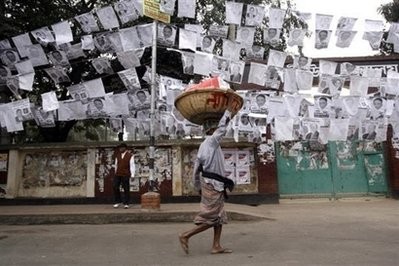 A street is festooned with scores of election posters in Dhaka.
Bangladesh has a long history of coups and counter-coups since independence.
The Awami League and the BNP have often been accused of anti-democratic tactics, with both crippling the country during their spells in opposition by boycotting parliament and staging national strikes.
The winner of Monday's election, either a single party or a coalition, needs a simple majority of the 300 seats in the National Assembly.
Voting ends at 1000 GMT, with results expected throughout the night. Analysts say voting patterns hard to predict due to a new digital electoral roll that eliminated 12.7 million fake names.
Some 200,000 electoral observers, including 2,500 from abroad, are monitoring the elections.