The Nobel Peace Prize winner Muhammad Yunus, known as troubled Bangladesh's "banker to the poor", will formally announce his entry into politics later Thursday, an official said.
"Professor Yunus will meet the reporters at the airport at 7:00 pm (1300 GMT) today before his departure for the Gulf," Dipal Barua, the deputy managing director of Yunus' Grameen Bank, told AFP.
"During the press briefing, Professor Yunus will formally declare his entry into politics. He has written a seven-page letter for his countrymen explaining his party's objectives and philosophy and he will circulate the letter at the airport."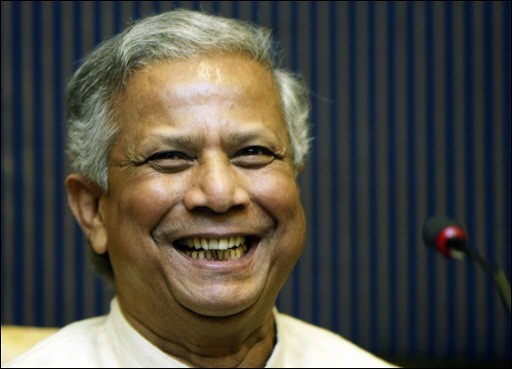 The Nobel Peace Prize winner Muhammad Yunus
The party would be named "Nagorik Shakti" or "Citizen Power", he added.
Yunus and the Grameen Bank, which he founded to offer small loans to the very poor, were jointly awarded the Nobel Peace Prize last October.
The microcredit pioneer had previously shunned the murky and sometimes violent world of Bangladeshi politics. The country is ranked among the most corrupt in the world.
Earlier this month, however, Yunus wrote an open letter seeking the views of ordinary people on whether he should launch a political party.
The party name was announced at the weekend and Yunus said it would contest all parliamentary seats at the next election, for which a date has yet to be set.
A ballot scheduled for January 22 was cancelled on January 11 when President Iajuddin Ahmed stepped down as head of the interim government and imposed a state of emergency.
The cancellation followed the main opposition's announcement that it would boycott the elections. It accused the Bangladesh Nationalist Party (BNP), which led the outgoing government, of seeking to rig them.
The new military-backed interim government, headed by former central bank governor Fakhruddin Ahmed, has pledged a string of reforms in order to hold credible polls.
It has also launched a major corruption crackdown and arrested and detained prominent figures, including ten former ministers with links to both parties.
At least 35 people were killed in pre-poll violence between the two main parties, which have maintained a 16-year-long stranglehold on power since democracy was reinstated in 1990.
Critics accuse both of corruption and undermining democracy through parliamentary boycotts and the use of violent strikes and protests as a negotiating tactic.