Bangladeshi twins Trishna and Krishna were in serious but stable condition on Wednesday after Australian doctors separated their conjoined heads in a major operation.
The two-year-olds were under close monitoring as they recover in an induced coma and on ventilators after the 32-hour operation aimed at giving them healthy lives apart.
Leo Donnan, chief of surgery at Melbourne's Royal Children's Hospital, said doctors will watch for possible infection and how the girls' organs adapt to the change. There was no immediate evidence of any brain damage, he added.
"We have still got many unknown things that will need to be addressed related to how well they recover from the surgery and how their bodies adapt to the separation," Donnan told reporters.
"They both will have issues with their kidneys and with other organs as well," he added.
"There is a whole lot of changes that will occur over the next couple of weeks, even into months, and we really don't know how well they will tolerate those."
The operation received widespread media coverage in Australia while nuns at the Mother Teresa orphanage, their former home in the Bangladeshi capital, were praying in shifts.
"We are still in touch with them and we have been kept informed of the progress of the operation. Yesterday everyone in the home took turns to pray for them," said senior nun Sister Olivet.
"Everyone remembers these children. They are very special children and we have many photos of them around the home so we can remember them. It's wonderful news."
The girls were close to death when they arrived in Australia two years ago from Dhaka, where doctors said they were powerless to improve their fading health.
But their condition rapidly improved and they developed a unique system of crawling on their backs and a love of Australian children's band "The Wiggles" while undergoing a series of preparatory operations.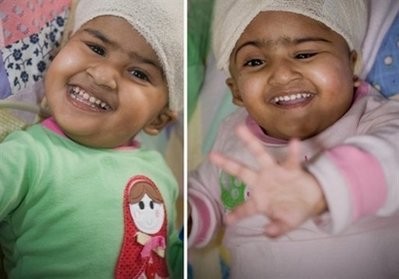 Handout photo received from the Melbourne Royal Children's Hospital and taken in August 2009 shows Trishna (L) and Krishna, the Bangladeshi set of twins joined at the head.
A team of 16 specialists worked through the night, taking regular food and rest breaks and listening to pop music in the operating theatre, before finally separating them at 11:00 am (0000 GMT) on Tuesday.
"The moment of separation was a rather surreal moment ... Everyone has known these girls as one with their individual personalities, so to see them as separate human beings is a pretty amazing moment," Donnan said.
The girls, who also had reconstruction surgery to cover their gaping skulls, will remain in a medical coma for several days before gradually being woken up.
Doctors have said there is a 25 percent chance they will both make a complete recovery.