The latest quarterly results from the ailing banking sector show major lenders appear to be healing, but with some segments of the industry still weak amid a recession-mired economy.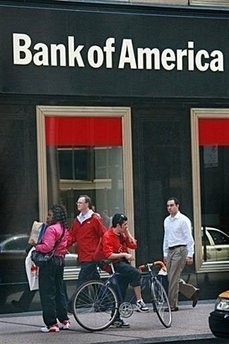 Pedestrians pass a branch of Bank of America in Chicago, Illinois. Bank of America said Friday it earned 3.2 billion dollars in the second quarter, down 5.9 percent from a year ago but better than most forecasts in the latest positive news for the ailing sector
On Friday, Bank of America and Citigroup reported healthy profits for the second quarter, although Citi's results were skewed by a one-time gain that offset hefty losses.
Earlier in the week, JPMorgan Chase and Goldman Sachs beat market expectations with strong results, mainly from the institutional, or Wall Street side, of operations, with consumer segments still struggling.
Nonetheless, the sector seen as critical to an economic recovery showed marked improvement on the heels of a massive effort by the US government to steady the financial system that included capital injections of tens of billions of dollars.
Over the past week, the Dow Jones Industrial Average shot up 7.33 percent over the week to Friday to 8,743.94, ending a four-week losing streak for blue chips.
The broad-market Standard & Poor's 500 index leapt 6.97 percent to 940.38 and the tech-heavy Nasdaq rallied 7.44 percent over the week to 1,886.61.
Fred Dickson, analyst at DA Davidson & Co., said some banks "have enjoyed a nice uptick in investment banking but do not have to deal with the negative ramifications of mark-to-market accounting of derivative holdings that wreaked havoc on financial earnings over the last couple of years."
But he said the troubles are not over in the financial sector.
"The process of unwinding subprime mortgage derivative swaps and other commercial derivative swaps hasn't materially improved over the last three months but is now being overlooked by investors as the banks are simply not talking about them," Dickson said.
Bank of America said it earned 3.2 billion dollars in the second quarter, down 5.9 percent from a year ago but better than most forecasts.
That left shareholders with a profit of 33 cents per share, better than market expectations.
Douglas McIntyre at 24/7WallSt.com said the results at Bank of America were "remarkable" considering that it was "forced into a horrible deal to buy Merrill Lynch."
But he also noted that "the firm did indicate that credit quality continued to drop, a potential Achilles' heel going forward."
In a more mixed result, Citigroup said Friday it earned a profit of 4.3 billion dollars in the second quarter, resulting from a big one-time gain on a joint brokerage venture.
But Citi also posted hefty losses from its real estate and trading operations as it continued to be battered by the global financial crisis.
Citi's results rebounded from a 2.49-billion-dollar loss in the same period a year ago, but the profit came from a one-time pretax gain of 6.7 billion dollars, or 11.1 billion before taxes, from creating the Morgan Stanley Smith Barney joint brokerage.
The deal closed June 1 put Citi's Smith Barney unit together with the trading division of Wall Street rival Morgan Stanley, with Citi getting cash as part of the deal.
John Carney at the financial website Clusterstock said Citi's results excluding the Smith Barney deal would show a loss of 27 cents a share, slightly better than Wall Street estimates.
But he said the bank is still hobbled: "Citi's loan portfolio continues to suffer. It has posted an additional 3.9 billion dollars to loan loss reserves."
Citi, once the world's biggest financial services firm, has received 45 billion dollars in bailout funds from the government in the form of capital injections.
In June, Citigroup finalized plans to convert its Treasury capital injection into common stock, a move that gives the government a major stake in the ailing banking group.
Yet the improving outlook for the sector is clouded by a potential collapse of large business lender CIT Group, which failed in its bid for a fresh government bailout and appeared headed for bankruptcy.
Larry Summers, the top economic adviser to President Barack Obama, said the banking industry and the economy are slowly recovering.
"I'm sure we have not seen the last bank failure during this cycle," he told a Washington forum. "But I do believe that the kind of systemic risks in the banking system that were a matter of great concern just six months ago have receded."