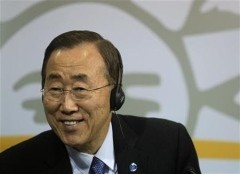 (AFP file) Ban Ki-moon
GENEVA, June 22, 2011 (AFP) - The UN human rights chief on Wednesday welcomed the re-election of Ban Ki-moon to a second term as leader of the United Nations, saying his "quiet diplomacy" saves lives.
"I welcome his reappointment because I know that he encourages me and my office and supports what we're doing to advance human rights," UN High Commissioner for Human Rights Navi Pillay told AFP.
"I am very aware of the quiet diplomacy that he engages in. Some NGOs have been critical that he's been too quiet," she noted.
"But you know how effective he can be in those quiet diplomacies? We need that.
"Sometimes his speaking quietly to a head of state does save lives, it ends up securing some freedoms, release of prisoners," stressed Pillay.
The top human rights official said Ban may not be able to speak of such action publicly, "but we who work closely with him, see that."
She also noted the "inhumane hours he works without sleep, totally dedicated."
The 192-member UN General Assembly voted by acclamation the election of Ban to a second term, which will start on January 1 and run through 2016.