MISRATA, Libya, April 29, 2011 (AFP) - Battles were raging on Friday between rebels and Moamer Kadhafi's forces for control of the airport in rebel-held Misrata, which was pounded overnight, and a Libya border crossing into Tunisia.
Loud explosions and gunfire rocked the area around Misrata airport, an AFP correspondent said, after a medical source said rocket and mortar fire during the night had killed at least nine people and wounded another 30.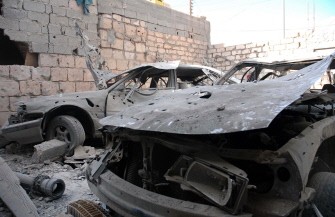 AFP - This photo taken on April 27, 2011 shows the remnants of cars after bombing took place in Zenten, in the region of Nalut, some 150 kms south of Tripoli.
Kadhafi's forces were pushed back from Misrata, 215 kilometres (132 miles) by the rebels and a series of air strikes by NATO warplanes on Monday but remain within rocket range of the city.
The rebels said earlier in the week they had secured Misrata's port and their next objective was to take control of the airport, which is still in the hands of government troops.
"Attack is the best form of defence," said Ibrahim Bet-Almal, who heads the rebel military forces in the area.
"Kadhafi is sending reinforcements to the region every day," he added.
In western Libya, the situation at a post on the Tunisian border was fluid amid heavy fighting.
On Thursday evening, hours after Kadhafi forces had retaken the post at Dehiba from rebels who had seized it on April 21, the insurgents again captured it in clashes that killed eight loyalist soldiers, sources said.
On the Libyan side of the border, the rival camps exchanged artillery fire in the early evening, causing panic among civilians, a witness told AFP.
Several ambulances from Tunisia crossed into Libya to evacuate the wounded, witnesses said.
Earlier, witnesses said rebels had fled into Tunisia, pursued by their enemies for a distance of about one kilometre (half a mile).
"The situation is very confused, and there is fighting on both sides of the border," the military source said, adding that Tunisian soldiers were "involved" without elaborating.
A witness said Tunisian troops had arrested fighters from both sides of the conflict, but that could not be confirmed.
A Tunisian police source said 5,150 people had crossed from Libya into Tunisia at Dehiba within 48 hours as fierce fighting raged.
Italy's military, meanwhile, took part in its first air raid over Libya, triggering an uproar within Prime Minister Silvio Berlusconi's coalition partner, the Northern League.
A pair of Tornado jets took off from Sicily equipped with precision-guided munition to strike "selected targets", a defence ministry official said without revealing details.
In what was an about-face, Rome had said on Monday it would participate in air strikes with a NATO-led coalition against Kadhafi's regime.
While ruling out ground operations, the government said it was stepping up its contribution after heavy fighting in Misrata claimed numerous civilian victims.
The government decision is "a mistake that will end up in a wave of immigrants sent by Kadhafi or fleeing war," interior minister and senior Northern League member Roberto Maroni told the Libero daily.
The Thursday night shelling in Misrata was described as random, with two women and three children among those killed in the eastern district of Grara.
In other developments in Misrata, a prosecutor said government forces had kidnapped more than 500 people listed as missing.
"More than 500 people are listed at missing right now, and the number is going up each day," Tareq Alwash said. "I think a lot of people haven't been able to report others as missing because they can't contact us."
Alwash said "many young people" were among those missing, "generally aged between 10 and 20 ... and some women." The youngest was named as nine-year-old Zacharia Ahmad.
In Brussels, rebel military chief Abdulfatah Yunis, formerly Kadhafi's interior minister, urged the West to deliver heavy weapons and warned that the strongman could use mustard gas on them in a bid to stay in power.
"Kadhafi is desperate now. Unfortunately he still has about 25 percent of his chemical weapons, which maybe he will use since he's in a desperate situation," Yunis told a news conference.
In Paris, the military said French jets were dropping inert bombs packed with concrete instead of explosives to destroy Kadhafi tanks without killing civilians.
Spokesman Thierry Burkhard denied rumours that the use of the 300-kilogram (660-pound) training devices was prompted by a shortage of real bombs, adding that the first such strike crushed an armoured vehicle on Tuesday.
"The aim of this munition ... is to use the effect of the impact while limiting the risk of collateral damage," Burkhard said. "It is a very precise strike. There is no, or very little, shrapnel thrown out."