The BBC on Monday asked NATO forces in

Afghan

istan to investigate the death of a local journalist working for the British broadcaster who was killed in the war-torn country last week
.
Ahmed Omed Khpulwak, 25, was one of 21 people who died on Thursday in five hours of fighting in the southern Afghan province of Uruzgan, which also saw Taliban insurgents target the deputy provincial governor's compound.
The BBC said that "conflicting reports" prompted them to ask NATO's International Security Assistance Force (ISAF) to investigate the death. The Taliban have denied killing the reporter and instead blamed the police.
"Various conflicting reports have emerged regarding the facts surrounding his (Khpulwak's) death," said the BBC in a statement.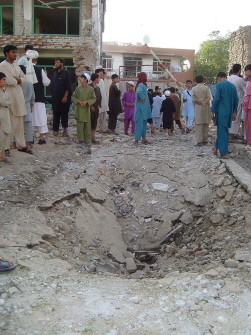 Afghan locals stand at the site of a suicide car bomb at the entrance to the office of a private security company in Kunduz on August 2, 2011
"The BBC has officially requested that International Security Assistance Force inquires into the circumstances of his death and reports the findings to the BBC and to his family as urgently as possible."
Khpulwak worked for the BBC on a freelance basis and joined the broadcaster in May, 2008, it said. He also worked for the Pajwak Afghan news agency.
Taliban spokesman Qari Yousuf Ahmadi told AFP on Thursday that the attackers were from the insurgent group, but denied killing the reporter, saying the police were responsible for his death.
The attack was the deadliest to hit Afghanistan in more than a month, with seven suicide attackers targeting different locations in Uruzgan's capital Trinkot and a motorcycle bomb remotely detonated outside police headquarters.