TOKYO (AFP) – Chinese Premier Wen Jiabao on Sunday said Beijing would ease some bans imposed on Japanese food imports over a nuclear crisis as leaders of Japan, China and South Korea held a trilateral summit.
For Japan the three-way meeting was an opportunity to address the concerns of its neighbours over its handling of world's worst nuclear crisis since Chernobyl 25 years ago, triggered by the March 11 earthquake and tsunami.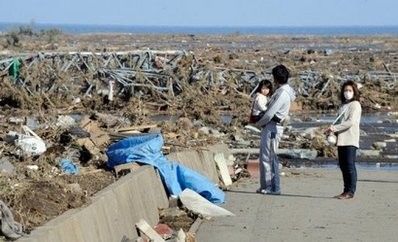 AFP file - Local residents survey debris in the aftermath of the huge tsunami which hit northeast Japan.
Tokyo's neighbours have been concerned by the leak of radiation from the crippled Fukushima Daiichi plant and its impact on food safety across the region. For Japan, the summit was an opportunity to secure the easing of import restrictions.
Wen, South Korean President Lee Myung-bak and Japan's Prime Minister Naoto Kan pledged to boost cooperation on nuclear safety and disaster preparedness.
A joint summit declaration said "Japan is committed to sharing with China, the Republic of Korea and the international community at large the lessons learned from the nuclear accident and the earthquake".
Wen, along with Lee, arrived in northeastern Japan earlier Saturday in a show of support as the first foreign leaders to visit Fukushima prefecture since the monster tsunami ravaged a nuclear plant on the coast.
The three Asian leaders together visited a shelter for displaced residents 60 kilometres from the plant on Saturday, a day before the summit.
On Sunday the nations pledged to work together to promote cooperation among nuclear safety experts and in disaster preparedness at the summit where food safety and trade issues topped the agenda.
Japan's two Asian neighbours had expressed displeasure to Tokyo after authorities released a massive amount of radioactive water from the crippled nuclear plant into the sea.
The summit began as the national leaders and high-ranking officials held a moment of silence.
"These three countries are very close neighbours. We can overcome difficulties by joining hands," said Wen.
Wen told Kan that Beijing would lift trade bans on food imports from two of the 12 Japanese prefectures on which China had imposed restrictions, while not requiring radiation inspections on products other than vegetables, seafood and milk products, a Japanese official said.
Wen also promised Kan that Beijing would encourage Chinese people to travel to the country by licensing Japanese tourist agencies in China.
The meeting came as Japan and China looked to deepen ties damaged by a tense territorial row that broke out between the two Asian giants in September last year over a maritime collision in the East China Sea.
Both countries claim the potentially resource-rich islets, known as the Diaoyus in China and Senkakus in Japan, along with the nearby seas.
China, Japan and South Korea will aim this year to finish joint studies by officials, academics and industry representatives on a possible trilateral free-trade agreement, the statement said.
At a news briefing, Kan said he also expressed concerns during the summit about North Korea's uranium enrichment.
The three leaders agreed on the importance for North Korea to show sincerity before six-country talks on its nuclear programme can resume and agreed to press North Korea to take appropriate action, Kan said.
The three-nation meeting was first held on a regular basis in 2008.