Silvio Berlusconi must stay in hospital another night following a bloody weekend attack, his doctor said Wednesday, after police revealed that an intruder was arrested trying to visit the Italian leader in a new security scare.
"Contrary to what we said yesterday, we consider it appropriate to extend by a day the prime minister's hospital stay," his personal doctor Alberto Zangrillo told reporters.
The 73-year-old leader, suffering from a broken nose and other facial injuries as well as neck pain following the attack on Sunday, suffers from "persistent pain... and difficulty eating", Zangrillo said.
Doctors had expected to discharge Berlusconi on Wednesday.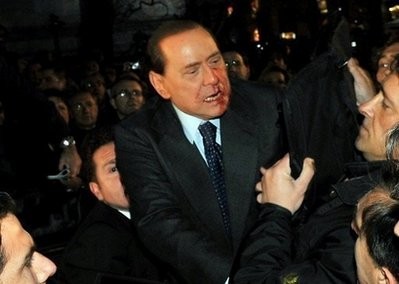 Italian Prime Minister Silvio Berlusconi reacts after being assaulted on December 13.
They said earlier old neck pains that resurfaced after the attack were causing severe headaches.
Also Wednesday, police and bodyguards overpowered a 26-year-old man and arrested him at around 2:00 am (0100 GMT) on the seventh floor of the Milan hospital that is treating Berlusconi, police told AFP.
"He was coming out of the lift when bodyguards and police immobilised him immediately," a spokesman said.
The intruder "said he wanted to talk to the prime minister," the spokesman said. "He did not have an aggressive attitude or any weapon or dangerous object on him."
In his car, however, police found two kitchen knives and some hockey sticks, the spokesman added.
Police said the man had been treated for mental health troubles.
Zangrillo said he ordered Berlusconi to stay another night because he was in "a state of suffering that is not always easily controlled" by pain medication.
Berlusconi will not need plastic surgery to repair any of his facial wounds, the doctor added.
The prime minister "will not take part in public events for 10 to 15 days, and better if it's 15 days," Zangrillo said.
Police said Berlusconi's assailant, Massimo Tartaglia, 42, had longstanding psychiatric problems.
He remains in police custody despite a request from his lawyers to transfer him at least temporarily to a psychiatric hospital.
A judge deemed that Tartaglia was still capable of carrying out a similar act, the ANSA news agency reported.
While Tartaglia claims to have acted alone, investigators are pursuing suspicions that he may have been set up, ANSA said.
Tartaglia, who hurled a model of Milan's gothic cathedral at the prime minister, faces up to five years in jail if convicted of assault.
Doctors told Berlusconi to avoid stressful public duties, and he has called off a trip to the Copenhagen climate summit this week and a Christmas Eve trip to L'Aquila, the Italian city where nearly 300 died in an earthquake in April.
His spokesman Paolo Bonauiti said a traditional end-of-year news conference may be rescheduled.
The attack sparked acrimony within Italy's political class.
On Wednesday the left and right continued a war of words, trading accusations of creating a "climate of hatred" that led to the attack on Berlusconi.
The head of a vast media empire, Berlusconi has targeted prosecutors seeking his conviction on corruption charges, as well the Constitutional Court, which threw out an immunity law that protected him from prosecution while in office.
Last month after a Mafia turncoat alleged he had links with organised crime in the early 1990s, Berlusconi threatened to "strangle the authors of fiction about the Mafia."
Berlusconi, now in his third term as prime minister, is fighting mounting domestic troubles. Allegations about dalliances with other women led his wife Veronica Lario to file for divorce.