Bermuda issued a hurricane warning Thursday as massive Hurricane Bill approached, spinning off life-threatening ocean swells in Puerto Rico and the island of Hispaniola and threatening to regain Category Four status.
A "large and powerful" Category Three hurricane, Bill was expected to pass over the open waters between the United States and Bermuda early Saturday, the US National Hurricane Center (NHC) said.
At 2100 GMT Thursday Bill's eye was about 960 kilometers (595 miles) south of Bermuda, and some 1,735 kilometers (1080 miles) southeast of the US coastline at Cape Hatteras, North Carolina, the NHC said.
The first hurricane of the Altantic season was moving towards the northwest at around 30 kilometers (18 miles) per hour, and was forecast to gradually turn north roughly parallel to the US east coast.
Projections show it passing within 340 miles (545 kilometers) of Boston Sunday morning before veering to the northeast up the Canadian coast.
Bill was packing maximum sustained winds of around 205 kilometers (125 miles) per hour, with higher gusts.
The National Hurricane Center said Bill "has the potential to regain Category Four status on Friday."
The Saffir-Simpson scale rates a storm's severity on a scale of one to five, with a Category Three hurricane packing dangerous winds that can cause extensive damage to populated areas.
Category Four is reserved for hurricanes with "extremely dangerous winds" that are expected to create "devastating damage."
Hurricane-force winds spun off from Bill extended up to 185 kilometers (115 miles) from the center.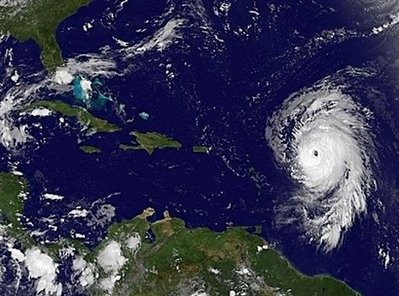 This National Oceanic and Atmospheric Administration (NOAA)-NASA GOES Project satellite image shows Hurricane Bill (R) on August 19, 2009.
Large swells "generated by this hurricane are affecting the northern Leeward Islands, Puerto Rico and Hispaniola," and should also "begin affecting the Bahamas, Bermuda, most of the US east coast and the Atlantic Maritimes of Canada" over the next days, the NHC said.
"These swells will likely cause extremely dangerous surf and life-threatening rip currents," the statement read.
Bermuda issued its hurricane warning at 11:00 am (1500 GMT).
The Atlantic hurricane season began on June 1 and ends on November 30.
Weather experts earlier this month reduced the number of projected hurricanes in the north Atlantic this season to four, two of them major hurricanes with winds above 111 miles (178 kilometers) per hour.
Bill's progress follows one of the calmest starts to the hurricane season in a decade, which researchers from Colorado State University attributed to the development of an El Nino effect in the Pacific.