Federal Reserve Chairman Ben Bernanke was named Person of the Year by Time magazine on Wednesday, giving him a high-profile boost as he tries to fend off proposals that might weaken the Fed's independence.
The selection puts the mild-mannered Bernanke, a former professor, in the company of U.S. President Barack Obama, Pope John Paul II and Russian President Vladimir Putin, among other prominent world figures the magazine has picked in past years.
The Senate is considering Bernanke's nomination to a second term to head the Fed -- the U.S. central bank -- and while he is expected to win confirmation, criticism of the Fed among the public and members of Congress is at its highest in decades.
The Fed's role in bailouts of Wall Street has prompted criticism from both Republicans and Democrats. Some lawmakers are pushing proposals to curb the Fed's regulatory powers and open up its interest rate decision to congressional audits.
The Fed w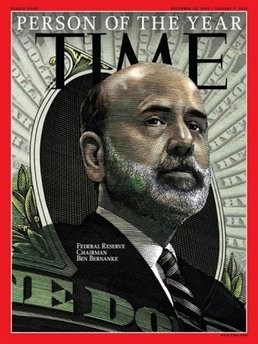 TIME magazine has named Federal Reserve Bank Chairman Ben Bernanke its 2009 "Person of the Year"
orries that congressional second-guessing of its policy decisions would compromise its fiercely-guarded independence.
One poll by Rasmussen Reports this month showed public support for Bernanke's nomination at a scant 21 percent, with 41 percent stating opposition, but he continues to enjoy support on Wall Street and among many lawmakers.
"Ben is the person that kept us from going over the edge of the precipice and into the abyss," said former Fed Governor Lyle Gramley, now a senior economic adviser at Soleil Securities.
But Republican Senator Jim Bunning, one of the Fed's sharpest critics, said Time's pick was a reward for "failure."
"Many of the problems our markets are facing right now could have been avoided had Chairman Bernanke not been asleep at the switch," Bunning said in a statement.
Time credited the 56-year-old Bernanke with creative leadership that helped set the U.S. economy on a path to recovery even as he and other policy makers remain concerned about a high unemployment rate of 10 percent.
Double-digit unemployment is one reason the Fed, which cut benchmark interest rates to near zero percent a year ago, on Wednesday repeated a vow to keep rates exceptionally low for "an extended period.
Bernanke "knows the economy would be much, much worse if the Fed had not taken such extreme measures to stop the panic," Time said in its cover story on the central bank head. The magazine noted he had greatly expanded the Fed's power through his efforts to fight the financial crisis.
BERNANKE STEPS INTO LIMELIGHT
Time's Person of the Year selection, widely watched in U.S. media, is not meant to be celebratory but rather to focus on a world figure who has been highly influential in the past year.
Still, the distinction is one that analysts said would probably help Bernanke, an expert on the Great Depression who succeeded Alan Greenspan in 2006.
In picking Bernanke, Time passed over runners-up including House of Representatives Speaker Nancy Pelosi and Gen. Stanley McChrystal, the top U.S. commander in Afghanistan, who riveted Washington for months with his troop-increase request.
For the first several years of his tenure, Bernanke, known for his low-key, analytical manner, had a much lower profile than Greenspan, who was considered a rock star on Wall Street and was extremely popular with the public during his tenure.
The criticism of the Fed has prompted Bernanke to step into the limelight this year, including granting an interview to the CBS news program "60 Minutes" and appearing at a nationally televised town-hall meeting in Kansas City, Missouri.
Bernanke, a Republican, was first named to the Fed by Republican President George W. Bush. Obama, a Democrat, nominated him for a second four-year term in August, praising his deft handling of the economic crisis.
The Senate Banking Committee is due to vote on the nomination on Thursday, although the full Senate is not expected to act until sometime next month. His first term as Fed chief expires on January 31.
The Fed has not faced the same pitch of public acrimony since the 1980s, when then-chairman Paul Volcker's interest-rate increases aimed at breaking double-digit inflation threw the economy into two back-to-back recessions.
Gramley, the former Fed governor who served under Volcker, said he thinks the anger at the central bank may even be greater than it was then.
"Then the problem was the public didn't like high interest rates but there was an understanding on the part of the public that we had a terrible inflation problem that had to be defeated," he said.
Now, "the public doesn't understand why (the Fed) had to bail out Bear Stearns or AIG", Gramley said, referring to insurer American International Group.
Douglas Elliott, a scholar at the Brookings Institution, said there's a good chance the tensions over the Fed will wane as the economy begins to improve.
But he said the increasingly tough political atmosphere for the Fed will be watched closely by investors and in countries such as China that have big holdings of government securities and want to see vigilance by U.S. authorities on inflation.
"We have a huge amount of foreign investment in our government securities as well as private securities," Elliott said. "Many foreigners are very worried that we're going to solve our deficit problems by inflation."