The party of assassinated Pakistan opposition leader Benazir Bhutto named her 19-year-old son as its new leader Sunday and announced it would contest general elections set for January 8.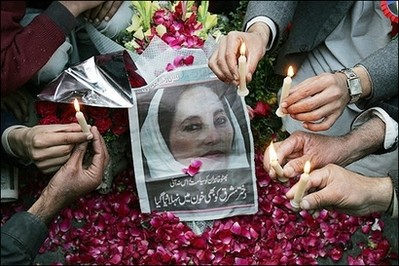 Supporters of the Pakistan People's Party (PPP) hold a candle vigil at the site of the assassination of former premier Benazir Bhutto, in Rawalpindi. The party of Benazir Bhutto named her 19-year-old son as its new leader Sunday and announced it would contest general elections set for January 8.(AFP/Saeed Khan)
"My mother always said that democracy is the best revenge," Bilawal Bhutto told a chaotic press conference in the family's ancestral home in southern Pakistan.
At an emergency party meeting here, officials also named Bhutto's husband, Asif Ali Zardari, as co-chairman to assist Bilawal.
Zardari called for a United Nations inquiry into the circumstances of his wife's slaying Thursday in a gun and suicide bomb attack as she left a campaign rally ahead of the parliamentary vote.
"We have decided to go for elections," he said, appealing to Nawaz Sharif, Bhutto's chief opposition rival who had announced a boycott, to rejoin a vote seen as a key step in Pakistan's transition to civilian democracy.
Sharif's party responded immediately and positively, with a spokesman telling AFP: "We will contest the election."
Bhutto's assassination stunned the nuclear-armed nation and left a void at the heart of her Pakistan People's Party, the country's largest.
It also triggered a wave of street violence that has left at least 38 dead and which has seen protesters clash repeatedly with police and torch hundreds of banks, shop, offices, railway stations, trains and vehicles.
The PPP's participation in the election could restore much-needed stability, although the electoral commission will convene Monday to decide whether the polls can still go ahead in the wake of the unrest.
Bilawal Bhutto, a student at Britain's Oxford University, was named party chairman after a marathon meeting of senior officials, but he is a political novice.
It means the leadership is following the bloodline for a third generation, some four decades after it was founded by his grandfather Zulfiqar Ali Bhutto, a former prime minister ousted and later hanged by the military.
"The party's long and historic struggle for democracy will continue with a new vigour," Bilawal told reporters.
Zardari, 51, is a much more controversial figure who is nicknamed "Mr. Ten Percent" over allegations about kickbacks under his wife's premiership, and who spent eight years in jail here.
Political commentator Najam Sethi said Zardari would "run the show to keep the place warm" for Bilawal, like India's Sonia Gandhi has done for her son Rahul.
Certainly Zardari was very much in charge at the press conference, refusing to let Bilawal take any more questions at one point.
"He may be our chairman but he is my son, and he is at a tender age. We are all in mourning," he said.
PPP vice president Makhdoom Amin Fahim and its Punjab leader Makhdoom Shah Mahmood Qureshi will sit on an "advisory council," party officials said.
The party meeting deep in southern Pakistan began amid emotional scenes as thousands of mourners beat their chests in grief and accused President Pervez Musharraf over Bhutto's death.
Earlier, the Pakistan Muslim League-Q party supporting Musharraf announced it was suspending campaigning for the vote and suggested a delay of up to 12 weeks.
Tariq Azim, Pakistan's former deputy information minister, said conditions had become too difficult because of the unrest.
"We have suspended our campaign because of the prevailing situation," Azim said. "Keeping everything in mind, a delay of 10 to 12 weeks is realistic."
But Bhutto's party said it would not accept any delay.
"We will not accept any postponement of the elections and we want them as per schedule by January 8," PPP Senator Safdar Abbasi told AFP. "If postponed or delayed we will devise our future course of action."
On Sunday, Musharraf agreed to "consider" international help for a probe into Bhutto's death in a conversation with British Prime Minister Gordon Brown, Downing Street said, though Pakistan's interior ministry had earlier rejected such assistance.
The unrest has been partly fuelled by controversy over the circumstances of Bhutto's killing, with the government's version -- that she smashed her head on her car sunroof during the attack -- dismissed by her supporters.
The interior ministry insists she had no gunshot or shrapnel wounds and is blaming Al-Qaeda, citing what it said was an intercepted call from the group's top leader in Pakistan.
The party insists she was shot before the suicide attacker blew himself up, matching early accounts of the carnage that left around 20 people dead in the northern city of Rawalpindi.
Bhutto, a strong critic of Al-Qaeda-linked extremists blamed for scores of bombings in Pakistan, had received death threats from militants.
She had also accused elements from Pakistan's intelligence services of involvement in a suicide attack on a rally in October that killed 139, and which she only narrowly escaped.
Zardari said he had denied the government permission for an autopsy, saying he had lived here "long enough to know" how it would have been handled.