Vice President Joe Biden was to hold talks in Kiev on Tuesday to reassure Ukraine that US efforts to repair relations with Moscow will not come at the expense of support for Russia's ex-Soviet neighbours.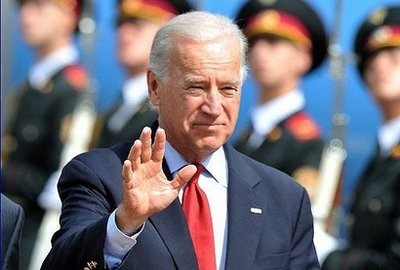 US Vice President Joe Biden waves upon arrival at Kiev's airport, Boryspil. Biden is on a working visit in Ukraine and then in Georgia amid concern in both nations that their relations with the United States could suffer as US-Russian relations improve. (AFP Photo)
Biden was scheduled to hold talks Tuesday with Ukrainian President Viktor Yushchenko, Prime Minister Yulia Tymoshenko and opposition leader Viktor Yanukovych before travelling Wednesday to Georgia to meet leaders there.
But while Biden's programmes in Ukraine and Georgia provide ample opportunities to reiterate US backing in word, his trip was not expected to spur much new support from Washington in deed, experts said.
His trip comes two weeks after his boss, President Barack Obama, travelled to Moscow where he described Russia as a "great power" and vowed his administration was determined to put US-Russia ties back on track.
Briefing journalists in Washington ahead of Biden's departure, one of his top aides summarized the message that Biden would carry to Ukraine and Georgia, both uneasy about the new US focus on improving relations with Russia.
"Our efforts to reset relations with Russia will not come at the expense of any other country," said Tony Blinken, national security advisor to the vice president.
Leaders in Kiev and Tbilisi are nervous that an improvement in US-Russian ties will translate into a rollback of Washington's aggressive past backing of their respective drives to move away from Moscow and integrate with the West.
"We salute the establishment of constructive and pragmatic ties between Russia and the United States, but it is important to us that this improvement is not done at the expense of Ukrainian interests," Ukraine's ambassador to Washington, Oleg Shamshur, said.
Russia has strenuously protested expansion of western influence and bedrock western institutions such as NATO into countries close to its borders and once part of the Soviet Union.
Tensions also remain high since Russian troops in August 2008 pushed deep inside Georgia in a war over its breakaway regions, sparking new fears that Moscow would use force to assert its interest in the former satellite states.
Biden will also use his visit to continue to press for more progress on democracy efforts inside both countries, according to Blinken, who said both nations face "the challenge of fulfilling the promise" of their revolutions.
In addition to meeting Ukraine's main current leaders, Biden was also scheduled to meet with Arseny Yatsenyuk, a young, pro-Western former foreign minister and speaker of parliament regarded as a potential president.
His trip will help Washington decide "if it supports Tymoshenko or Yatsenyuk, or if, at the end of the day, Yanukovych is not that scary for the United States" despite his pro-Russian reputation, the daily Segodnya commented.
Biden was scheduled to leave Ukraine on Wednesday for Georgia, where he was due to meet President Mikheil Saakashvili and deliver an address to parliament.