Vice President Joe Biden assured a nervous Ukraine that its interests won't be sacrificed as the United States tries to mend ties with Moscow.
Visiting Kiev two weeks after President Barack Obama attended a Moscow summit, Biden said Russia can claim no "sphere of influence" in its backyard. The U.S. vice president travels next to another former Soviet republic, Georgia, which lost a five-day war with Russia last year over separatist provinces that Moscow insists are independent states.
Russia has responded angrily to efforts by the pro-Western leaders of Ukraine and Georgia to distance their countries from Moscow and seek NATO membership.
As confrontation simmers between Moscow and the West over Ukraine's future, Biden signaled that Russia has no special rights in the region.
"We do not recognize — and I want to reiterate it — any sphere of influence," Biden said after meeting with pro-Western President Viktor Yushchenko. "We do not recognize anyone else's right to dictate to you or any other country what alliances you will seek to belong to."
Before Biden even spoke, Russia had warned the United States to tread lightly when it courts Moscow's neighbors.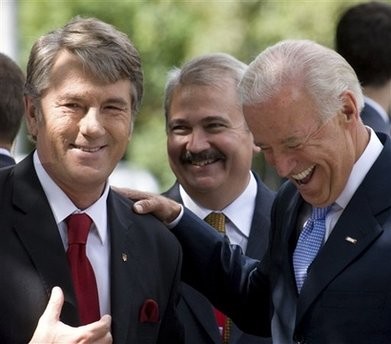 Ukrainian President Viktor Yushchenko, left, and U.S. Vice President Joe Biden
Russian Foreign Ministry spokesman Andrei Nesterenko said all nations are free to choose their partners, but added: "It is important that this be done transparently, without under-the-carpet games and not at the expense of others' interests."
Nesterenko suggested Russia's traditional ties with Ukraine give it a bigger stake in the country's future, saying nations dealing with Ukraine should take regional context and "historical specifics" into account.
Biden reassured Ukraine that Obama's bid to "reset" relations with Russia would not hurt Ukraine's push for integration with the West, saying better ties with Moscow "will not come at Ukraine's expense."
"To the contrary, I believe it can actually benefit Ukraine," he said. "The more substantive relationship we have with Moscow, the more we can defuse the zero-sum thinking about our relations with Russia's neighbors."
The Russia-US summit on July 6-8 aimed to make a new start in relations, which reached post-Cold War lows after Russia's war with Georgia last August. Obama stressed that "NATO seeks collaboration with Russia, not confrontation."
Mindful of a rift within Ukraine about joining NATO, Biden said the U.S. would not dictate to the nation, but emphasized that "if you choose to be part of Euro-Atlantic integration — which I believe you have — that we strongly support that."
Polls have shown a majority of Ukrainians oppose NATO membership, and European allies have been more wary than the United States about bringing Ukraine into the alliance. While NATO has stressed that the door remains open, Russia's war with Georgia deepened concerns by hinting at the lengths Moscow is willing to go to keep neighbors out of the Western alliance.
The war also raised alarms in Ukraine about Kremlin intentions toward a nation many Russians see as inextricably linked to their own. Biden stressed that "the United States supports Ukraine's sovereignty, independence and freedom, and to make its own choices — its own choices — including what alliances they choose to belong."
Russia's envoy to NATO, Dmitry Rogozin, drily dismissed Biden's trip as "psychotherapy" aimed to comfort Ukraine and Georgia, and said neither has a chance of joining the alliance any time soon.
Welcoming Biden, Yushchenko called Ukraine a "European country where democracy rules" — seeking to set it apart from Russia, which has often-acrimonious relations with the European Union and has faced accusation of a retreat from democracy in the past decade.
"We are going forward, we have chosen a European path," Yushchenko said.
He also called for U.S. investment in upgrading Ukraine's natural-gas pipeline network, which carries large volumes of Russian natural gas to European consumers. Russia turned off the taps during a price dispute in January, leaving many Europeans without gas for two weeks and prompting the EU to step up efforts to find alternative supply routes.
Accompanied by Yushchenko, Biden placed flowers at a memorial to victims of a deadly 1932-33 famine engineered by Soviet leader Josef Stalin's government — the focus of one of several disputes between Ukraine and Russia over history. Yushchenko is seeking international recognition of the famine that killed millions of Ukrainians as genocide, while Russia adamantly argues that Ukrainians were not specifically targeted.
Biden later met with Prime Minister Yulia Tymoshenko, a former Yushchenko ally who is now a bitter foe and chief challenger in January's presidential election. He also met with opposition leader Viktor Yanukovych and former parliament speaker Arseniy Yatsenyuk, who also plan to seek the presidency.
Biden urged the feuding leaders to put disagreements behind them and get down to fixing the country's devastated economy. "Working together, especially in times of crisis, is not a choice, it's an absolute necessity," he said. "Compromise ... is not a sign of weakness, it is evidence of strength."
The rivalry has played into the hands of Yanukovych, who has warmer ties with Moscow and is popular in Ukraine's largely Russian-speaking east.
Biden on Wednesday visits Georgia, whose strategic location along a key energy route has made it a geopolitical battlefield between Moscow and the West.
Russian forces quickly crushed the Georgian army last August after Georgian President Mikhail Saakashvili launched an offensive targeting the Moscow-backed breakaway province of South Ossetia to try to bring it under control.
Russia has defied the West by deploying thousands of troops in South Ossetia and another separatist province, Abkhazia, and recognizing both regions as independent nations.