The death toll from winter storms across Europe rose to at least 80 on Monday as transport chaos spread amid mounting anger over the three-day failure of Eurostar high-speed trains.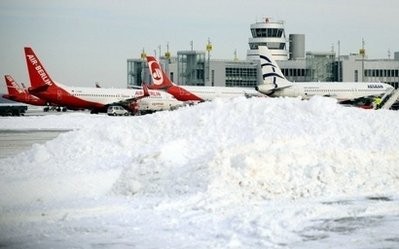 Airplanes standing on the snow-covered tarmac at the airport in Duesseldorf, western Germany. (AFP Photo)
With tens of thousands stranded by the cancellation of London-to-Paris trains and hundreds of flights across the continent, new accidents and mass power cuts added to the big freeze tumult.
A car veered off an icy road and knocked concrete onto rails, derailing a Paris commuter train and injuring 36 people, police said. Three hundred people had to be evacuated from the train.
Another train in the Croatian capital Zagreb hit a buffer injuring 52 people.
Croatian investigators blamed the minus 17 degrees Celsius (1.4 Fahrenheit) temperatures for a brake failure, national television reported. European temperatures as low as minus 33.6 degrees Celsius (minus 28.5 Fahrenheit) have been recorded in Bavaria.
In Poland, authorities said 42 people, many of them homeless, had died of cold over three days after temperatures plunged to minus 20 degrees Celsius (minus four Fahrenheit).
Ukraine reported 27 deaths while six people were killed in accidents in Germany and three in Austria.
France has reported at least two deaths of homeless people, and the national power company briefly cut electricity to two million people on Monday saying it was necessary to avoid an even bigger blackout amid surging demand.
More flights were cancelled in France, Germany, the Netherlands, Portugal and Spain and main highways were blocked across Europe where some regions had more than 50 centimetres (20 inches) of snow.
The breakdown of the Eurostar service under the Channel, linking London with Paris and Brussels, has symbolised Europe's suffering.
After the nightmare of more than 2,000 people stuck in the tunnel when five trains broke down Friday, tens of thousands more people have missed trains cancelled since then, with Eurostar announcing a "restricted" service for Tuesday.
But those trains will only run for passengers originally due to travel Saturday or Sunday, with the remainder of the backlog to be cleared over the next few days. Normal service is not expected to resume before Christmas Day.
The French transport ministry has ordered an investigation into the breakdown, which Eurostar said has been caused by trains unable to handle the change from freezing temperatures outside to warm temperatures in the tunnel.
Eurostar said it had launched its own independent review.
The winter storms caused other disruption across Europe.
Air traffic was again badly hit as temperatures remained glacial: minus 20 degrees Celsius in Sibiu in Romania, where more than 50 centimetres of snow fell, and minus seven Celsius in Venice, Italy.
Seven hundred people spent the night on camp beds at Amsterdam-Schipol airport and more flights were cancelled after dozens were grounded Sunday.
The Dutch rail network was also badly hit with the railway company advising commuters to stay at home.
Heavy snowfall led to more delays and cancellations at Frankfurt and Duesseldorf airports in Germany, where more than 500 flights were cancelled or redirected on Sunday.
Twenty percent of flights out of Paris-Charles de Gaulle were cancelled Monday. The main RER commuter train line running east to west across the Paris region has been out of action for 12 days because of a strike.
Spanish civil aviation authorities said 174 flights from Madrid-Barajas airport were called off. Flights from Lisbon to Madrid were among those hit while main roads in northern Portugal were cut by snow.
Brussels airport also reported cancellations and delays.
After more snow falls on Moscow, authorities sent out 13,000 dump trucks to clear the streets as chronic traffic jams built up.
In Britain, more airport delays hit passengers while snow forced the postponement of Wigan's English Premier League football match against Bolton Wanderers.