Former US president Bill Clinton arrived for a surprise trip to Democratic People's Republic of Korea (DPRK) Tuesday, state media reported, in an apparent attempt to negotiate the release of two jailed American journalists.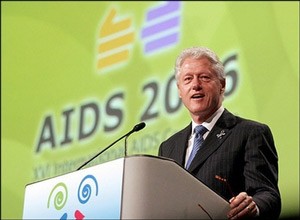 The file photo shows former US President Bill Clinton dilivering speechs at a conference on AIDS in 2006. (AFP Photo)
Clinton, the husband of Secretary of State Hillary Clinton, is the highest-profile American to visit DPRK since his own secretary of state Madeleine Albright in 2000.
He and his party were greeted at Pyongyang's Sunan airport by Yang Hyong Sop, vice president of the presidium of North Korea's parliament, and by vice foreign minister Kim Kye-Gwan, the Korean Central News Agency said.
"A little girl presented a bouquet to Bill Clinton," North Korea's official mouthpiece added, giving no further details.
Relations between the North and the United States and its allies are at their worst for years following Pyongyang's second nuclear test on May 25 and subsequent United Nations sanctions.
The North on July 4 -- US Independence Day -- test-fired seven ballistic missiles in defiance of the sanctions, but also indicated last week it was open to dialogue with Washington.
Journalists Laura Ling and Euna Lee were arrested on March 17 near the border with China while reporting on refugees fleeing the impoverished North.
A Pyongyang court in June sentenced them to 12 years of "reform through labour" for illegal entry and an unspecified "grave crime".
The pair work for California-based Current TV, co-founded by Clinton's vice president Al Gore.
DPRK official media have said Ling, 32, and Lee, 36, admitted to a politically motivated smear campaign.
It said they crossed the border illegally "for the purpose of making animation files to be used for an anti-DPRK smear campaign over its human rights issue".
Media freedom groups have slammed the sentences against the pair, while their families and Hillary Clinton have appealed for their release on humanitarian grounds.
South Korea's Yonhap news agency quoted a Seoul source as saying DPRK and the United States have been holding "active consultations" on their fate in recent weeks.
It said President Barack Obama's administration planned to send Gore as a special envoy but the North rejected the offer, apparently in hopes Washington would send a top-level official authorised to discuss political issues.
The Obama administration has refused to link the journalists' detention with the nuclear standoff.
Obama said in June he was "deeply concerned" over the sentencing of the two US journalists and was using "all possible channels" to obtain their release, according to the White House.
Hillary Clinton said at the time: "We think the imprisonment trial and sentencing of (the two) should be viewed as a humanitarian matter. We hope that the DPRK will grant clemency and deport them."
Yonhap said Bill Clinton was apparently a compromise choice, saving face for both sides. Another source said he was accompanied by civilians from his charitable foundation, not US government officials.
South Korea's Munhwa Ilbo newspaper, quoting a Washington-based source, said Clinton was expected to return to Washington on Wednesday.
The source said the trip was at the request of DPRK, which through diplomatic channels in New York indicated it wanted a visit by either Bill or Hillary Clinton.