LONDON, April 30, 2010 (AFP) - Ex-British premier Tony Blair returned to the campaign trail Friday to help his embattled successor Gordon Brown, struggling to keep his party's re-election hopes alive six days before national polls.
A major gaffe and a poor performance in a crunch pre-election TV debate have left Brown's Labour Party trailing in third place in polls, while boosting the hopes of his main opposition rival, Conservative leader David Cameron.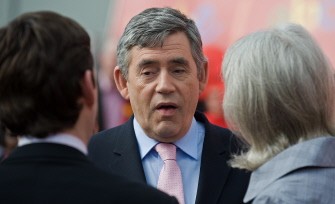 British Prime Minister Gordon Brown speaks to party supporters following the launch of his party's last poster campaign prior to the May 6 general elections in Birmingham, central England on April 30, 2010. AFP photo
Blair, making only his second appearance of the campaign so far in a London health centre, insisted Labour still have a chance of clinging on to power after 13 years in office.
"I believe Labour has every chance of succeeding," he said, adding: "When you get into the final days people will really focus their minds on who's got the best ideas for the future."
Asked if Brown had failed as premier, Blair said: "No, I don't think he's failed at all."
Less than a week before the May 6 ballots, Brown battled to move on from a gaffe in which he branded a pensioner as a "bigoted woman" -- but his performance in the last of three TV debates Thursday night failed to inspire.
Instant polls taken after the final US-style TV showdown showed Brown trailing Cameron by more than 10 percent, while the Liberal Democrats' Nick Clegg came second.
A newspaper poll on voting intentions also confirmed the Conservatives are still in the lead -- the YouGov survey for the Sun had the Tories on 34 percent, Lib Dems on 28 percent and Labour on 27 percent.
Cameron vowed Friday there would be no complacency.
"I do not take anything for granted and we have got to fight a very hard campaign in these last six days to really win people over and say: change is possible, change can happen.
"But... we are fighting not just Labour and the Liberals, we are fighting cynicism and apathy and deep, deep unhappiness with all politicians," he added.
Brown, unveiling a new campaign poster, acknowledged that, if opinion polls remain as they are, he could be out of power by next Friday.
"If things stay the same way, then the Conservatives and possibly the Liberals could be in a government in a coalition together," he told reporters in Birmingham, central England, where the last debate was held.
But he said: "We will continue to fight for the future of this country until the very last second of this election campaign."
Commentators agreed that Cameron had clearly won Thursday's debate.
"Mr. Clegg no longer looked like the new kid on the block, and Mr Brown was weighed down by the baggage of 13 years in office," said the rightwing newspaper the Daily Telegraph.
"It was Mr Cameron who looked the part."
The left-leaning Guardian also praised him: "Cameron was very assured, delivering his best debating performance when it counted most. He was optimistic, reassuring, steady."
Brown's aides had hoped that Thursday's debate, focused on the economy, would favour the premier, credited with overseeing a decade-long boom as finance minister under Blair.
But a campaign trail blunder Wednesday left him fighting for his political life and distracted attention from the showdown.
Brown was picked up by a microphone describing 66-year-old Labour supporter Gillian Duffy as "bigoted" in an angry discussion with aides after the widow challenged him on immigration.
Blair -- who made a first campaign speech a month ago in his former Sedgefield constituency -- is also to campaign next week in northeast England, the Guardian reported.