Two children were killed in an explosion on Monday in Pakistan's southwestern province of Baluchistan, which borders on Afghanistan and

Iran

, police said.
Bomb disposal experts were working to establish whether the blast was a bomb attack or an accident caused by unexploded ordnance.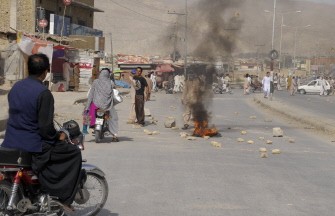 Pakistani Shiites burn tires to protest against the killing of Shiites in Quetta on July 30, 2011 after a passenger van carrying Shiite Muslims was attacked by gunmen.
Baluchistan is beset by separatist unrest, Islamist militancy and sectarian violence between majority Sunnis and minority Shiite Muslims.
The blast took place in a garbage dump on the outskirts of Quetta, the provincial capital.
"Two children who worked as garbage collectors were killed. As yet we are not clear about the nature of the blast," Hamid Shakil, a senior police officer, told AFP.
"A bomb disposal squad is examining the site and collecting evidence."
Baqir Shah, a doctor in Quetta's main hospital, said the dead children were between five and eight years old.
Quetta was the scene of two shooting attacks on Friday and Saturday when gunmen killed 18 Shiite Muslims in apparent religious sectarian attacks.