NEW YORK, Oct 31, 2009 (AFP) - New York Mayor Mike Bloomberg looks set to secure a third term Tuesday after spending record sums of his own money -- a million dollars a day -- to remain master of the Big Apple.
The media tycoon, who first took office in 2001, goes into election day with polls predicting a comfortable win over his closest rival, the little-known and underfunded William Thompson.
Bloomberg, 67, is widely credited with turning once gritty and chaotic New York into one of the cleanest, safest and most efficient US cities.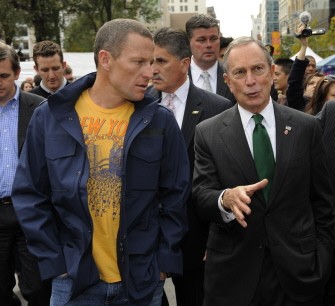 New York City Mayor Michael Bloomberg and seven-time Tour de France champion Lance Armstrong (L) as they tour the Union Square Green Market October 30, 2009. Armstrong is in town for a charity auction of some of his bikes. (AFP photo)
He has overseen a surge in luxury developments, barred traffic from teeming Times Square, made restaurants display calorie counts, and banned smoking in bars, with a view to extending the ban to city parks.
Yet two controversies mark his apparently unstoppable path to a third four-year term in a city reeling from the Wall Street crash.
One is the astounding use of his estimated 17.5 billion dollar fortune to dominate the campaign.
He burned through about a million dollars a day in the final weeks, with the total bill forecasted to exceed 100 million dollars.
Bloomberg's spending over three elections has smashed the previous US record for self-financed political campaigns, making Thompson's six million dollar war chest resemble spare change.
The founder of Bloomberg LP, an international news and financial data giant, also sparked anger by strong-arming the City Council into scrapping a two-term limit approved in a referendum, thereby enabling him to run for a third time.
The result is that while Bloomberg's reelection seems sure, he is not widely loved.
The latest Marist Poll, released October 22, gave Bloomberg 52 percent to Thompson's 36 percent, while a Quinnipiac University survey scored them at 53 to 35.
The final result may well depend much on what is expected to be a low turnout.
Robert Shapiro, who teaches American politics at Columbia University, said Bloomberg deserves praise for his managerial achievements.
"He's perceived as generally running the city in a good way and maintaining a low crime rate -- a low crime rate in the face of cutting the police, which is remarkable."
Why Bloomberg should take such extraordinary measures to extend his job remains something of a mystery.
New York faces deep funding shortages as a result of Wall Street cutbacks. Unemployment tops 10 percent, the municipal budget is under strain and New York state's finances are in even bigger trouble.
"He obviously really wants to be mayor of New York for four more years. It makes you wonder," Shapiro said. "He's entering an environment that has a lot of negative things going for it."
Thompson, New York's 56-year-old city comptroller, claims he can score an upset, but analysts believe he lacks the showmanship or other extra weapon he'd need to counteract the incumbent's domination of the airwaves and mailboxes.
While Thompson is a Democrat, he has received little backing from party chiefs and only the faintest of endorsements from President Barack Obama.
The other seven candidates, including a libertarian who wants to scrap smoking restrictions, are hopelessly outgunned and have been almost ignored by the city media.
One, Green Party candidate Billy Talen, managed to secure a few seconds of attention, but only by heckling Bloomberg as the mayor started a televised debate against Thompson on October 13.
"What are you doing here? We voted for term limits!" shouted Talen, who dresses as a TV evangelist and plays the role of Reverend Billy, leader of the Church of Life After Shopping.
Thompson, calling Bloomberg's changing of term limits "obscene," wants to tap into the widespread view of the diminutive, dapper entrepreneur as a high-handed billionaire.
Bloomberg's TV campaign ads show him as a leather-jacketed man of the people, but he is the richest individual in a rich city, a helicopter pilot, and integral member of the media and business elite.
Bloomberg says his big business background makes him uniquely suited to steering the city through troubled economic times.
Fred Siegel, a scholar at the Manhattan Institute, dismissed Bloomberg as "a mediocrity whose money makes him seem better, a moderately competent muddle of a mayor."
Everything depends on the economy. Either New York recovers and Bloomberg can take credit, or the situation worsens, leading to the mayor being remembered as a failure.
Siegel said Bloomberg may well be lucky with his timing, but that a tumultuous third term is not hard to imagine.
"It reminds me of 1973 when we had an election in which you could see all the storm clouds. There's a touch of the winter of discontent here."