DAMASCUS, April 25, 2011 (AFP) - Thousands of Syrian troops backed by tanks on Monday launched assaults on the flashpoint towns of Daraa and Douma, firing indiscriminately and leaving bodies in the streets, witnesses said.
Rights activists also reported security force raids in the town of Al-Muadamiyah near Damascus, while Amman said Syria had sealed off its border with Jordan.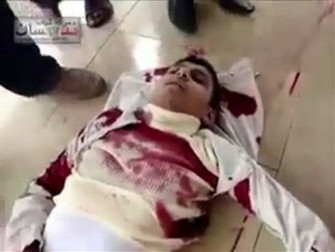 AFP - A video grab released by AFPTV from YouTube on April 25, 2011 shows a Syrian anti-government protester injured during demonstrations
One witness spoke of five people killed in Daraa when their car was raked by gunfire while activists reached by telephone said they were unable to count the number of dead and wounded as army snipers on rooftops were preventing people from leaving their houses.
"We saw with our own eyes, they were in a car that was riddled with bullets," the witness said, adding that he was on a rooftop and could hear intense gunfire reverberating across the southern town near the Jordanian border.
"The minarets of the mosques are appealing for help. The security forces are entering houses. There is a curfew and they fire on those who leave their homes. They even shot at water tanks on roofs to deprive people of water," he said.
A massive crackdown was also underway Monday in Douma, 15 kilometres (nine miles) north of Damascus, a rights activist said, reached by telephone.
"Security forces have surrounded a mosque and are firing indiscriminately. Streets are cut off from each other and Douma is isolated from the outside world," said the activist, adding that there have been sweeping arrests in the town since Sunday.
He said communication network was also cut in the town as he spoke from the edge of Douma.
The military assaults come as Syria is engulfed in anti-regime protests and amid a crackdown on demonstrators across the country in which according to rights activists and witnesses more than 135 people have been killed and scores arrested since Friday.
The crackdown comes despite President Bashar al-Assad signing on Thursday decrees ending a draconian state of emergency, imposed by the Baath Party when it seized power in 1963, to placate more than a month of pro-democracy protests.
He also abolished the state security court that has tried scores of regime opponents outside the normal judicial system and issued a decree allowing citizens to hold peaceful demonstrations.
Rights activists said a 3,000-strong military force swarmed into Daraa in the early hours of Monday, with tanks taking up positions in the town centre and snipers deploying on rooftops.
"Snipers have taken up positions on the roofs and tanks are in the centre of the town... Bodies are lying in the streets and we can't recover them," one activist said, asking not to be named for security reasons.
Activist Abdullah Al-Harriri told AFP earlier on Monday: "The men are firing in all directions and advancing behind the armour which is protecting them.
"Electricity is cut off and telephone communications are virtually impossible," he said.
On Sunday thousands of residents of Daraa province buried several victims of a crackdown by security forces of protesters the previous day.
A demonstration followed, but the security forces did not intervene, a militant said. Asking to remain anonymous, he said the protesters brandished Syrian flags and placards calling for "suppression of Article 8 of the constitution" on supremacy of the sole Baath Party.
Tens of thousands swarmed cities and towns across Syria on Friday to test implementation of the reforms authorised by Assad a day earlier, but security forces used live rounds and tear gas against them, activists said.
"After Friday's carnage, it is no longer enough to condemn the violence," Joe Stork, deputy Middle East director at Human Rights Watch, said in a statement.
"Faced with the Syrian authorities' 'shoot to kill' strategy, the international community needs to impose sanctions on those ordering the shooting of protesters," he said.
Jordan's Information Minister Tahen Adwan, meanwhile, said Syria had sealed its border with Jordan, a few hours after the start of the assault on Daraa, around five kilometres (three miles) from the frontier.
"Syria closed its land borders with Jordan. The Syrian decision is related to the internal situation in Syria," Adwan told the state-run Petra news agency.
The protests against Assad's regime started mid-March in Daraa and spread to other major centres, including the capital Damascus.
A crackdown by the security forces on the protests have left at least 366 people dead, according to figures compiled by AFP based on reports by human rights groups and witnesses.
Syria blames "armed gangs" for the unrest aimed at fuelling sectarian strife among its multi-religious and multi-ethnic communities.