SEATTLE, Washington, Nov 10, 2010 (AFP) - US aerospace giant Boeing on Wednesday halted test flights on its new 787 Dreamliner, dealing a fresh setback to a program already running about three years behind schedule.
Boeing announced the decision after a fire aboard a test plane on Tuesday forced an emergency landing.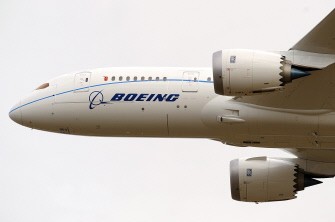 (AFP FILES) A Boeing 787 Dreamliner aircraft does a flyby at the Farnborough Airshow, Hampshire, England in this July 18, 2010 file photo.
At a news conference in Seattle in the western US state of Washington, Boeing spokeswoman Loretta Gunter said the fire was the most serious incident since test flights began in December 2009.
"I don't know how long the suspension will last," Gunter said, adding that the focus would be on ground testing until the incident was understood and that it was unclear if the fire would further delay the program.
The 787 Dreamliner, launched in April 2004, has suffered a series of setbacks, many of them from challenges in the international production of parts for the mid-size plane.
Boeing says the high-tech 787, made essentially from composite materials, will deliver a 20 percent reduction in fuel consumption compared with planes of similar size flying today.
The first 787 was initially promised to Japanese launch customer All Nippon Airways (ANA) in the first half of 2008. Delivery has now been put back to around February 2011.
Smoke filled the ZA002, one of Boeing's six test 787s, on Tuesday, forcing an emergency landing in Laredo, Texas.
"There was a fire on board the airplane, which created the smoke in the cabin area," Gunter said, stressing that the investigation was of "an incident, not an accident.
"We don't know where it started. We need to analyze all the data," the Boeing spokeswoman said, adding that the fire was not in the main cabin and had been extinguished before the plane landed.
Shares in Chicago-based Boeing plunged 3.15 percent to close at 67.07 dollars in New York.
"The most likely outcome is a modest delay to the flight test with a potential multi-week slip in first delivery, which is well within the range of investor expectations," Barclays Capital analysts said in a client note.
The troubled plane was painted in ANA livery and like three other 787 test planes was equipped with a Rolls-Royce Trent 1000 engine. The remaining two have General Electric GEnx engines.
"Right now we don't see any connection with the engine," Gunter said.
The British firm has been in the spotlight after a spate of mid-air mishaps.
In early November, a Qantas Airbus A380 superjumbo was forced to make an emergency landing after a Rolls-Royce Trent 900 blew out.
In a separate incident, a Qantas Boeing 747 had to turn back to Singapore after another model of Rolls-Royce engine failed in mid-air.
In August, Boeing pushed back the 787 delivery schedule from a target of the early weeks of 2011 due to a delay in the availability of a Rolls-Royce engine.
Gunter said a Rolls-Royce engine had exploded during ground tests in September.
It was the second time Boeing has halted 787 test flights, suspending them for "a couple of days" in June, she said, without explaining the reason. US media reported problems with the plane's tail stabilizers.
Boeing has 55 customers from six continents that have placed orders for 847 Dreamliners to date, valued at 147 billion dollars, the most successful launch of a new commercial airplane in its history.
But it has faced cancellations and compensation claims for some delays.
Last week Aviation Week, citing industry sources, reported Boeing has warned Korean Air, Air India and Japan Airlines of delays of up to 10 months.